LONG BEACH, California -- A hospital worker shot another employee to death, critically wounded a second and then killed himself at a medical center Thursday, sending panicked people fleeing, police and witnesses said.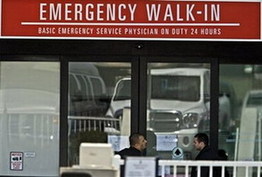 Police secure the door of the emergency walk-in area as they surround the Long Beach Memorial Hospital after a shooting that left two people dead and one in critical condition, Thursday April 16, 2009 in Long Beach, California. [Agencies]
more photo
Police Chief Anthony Batts Batts would not identify those involved at the shooting at Long Beach Memorial Medical Center but said all were male. He said the motive remained under investigation but noted the violence came amid a flurry of recent shootings in America.
"This is a trend of active shooters that you have seen nationwide," Batts said at a news conference. "This is becoming a national trend, probably because of the tension that's going on in our society today."
Batts said officers responding to gunfire just before noon found one victim inside the hospital and then discovered a second victim outside, on the north side of the hospital outside the emergency room. Both were taken to the emergency room; one was dead and the other was critical, he said.
The suspect was found dead near the second victim, he said.
Carmen Ortiz, 47, a hospital housekeeper, said she was outside for her break when she heard a gunshot and saw people running away from the building. She said her manager rushed out and told her to get inside.
"Then there was another shot, but I was inside," Ortiz said. "I was very frightened."
Hospital worker Edward Collins trembled as he recounted coming upon the violence.
Related readings:


 4 injured in school shooting in Athens


 Authorities confirm identities of 14 victims in shooting


 2 shooting tragedies on same day


 8 killed in US nursing home shooting
"When I got off the elevator, I heard screams," Collins said. An upset friend told him she had just seen someone she knew shoot someone. Collins then saw the shooter holding what appeared to be a black handgun.
"He was standing over the guy he shot," he said.
Collins said the gunman eventually pointed the gun at his own head and pulled the trigger.
A woman, Charity Perez, told KCAL-TV her husband, a hospital valet, knew the gunman and identified him as a worker at a pharmacy. The police chief would not confirm that, pending notification of the employees' families.
Melo Dotski, a radiology department clerk, said she had known the shooter by his first name for about two years. She said she used to help him with transactions when she worked as a teller at a bank at the medical center.
"He made all kinds of jokes, he was a funny man," Dotski said. "He was smiling, laughing, making sure everybody was doing OK."
Laura Harris told KCAL she saw the shooter walk up, pull a gun and shoot a hospital employee in the leg.
"Then the young man fell and then he stood over him and shot a couple more times. Then he (the shooter) put the gun up under his chin," and shot himself, she said.
A youth, Justin Hawkins, said doctors got people into rooms during the shooting before police arrived.
"The doctors did the best job possible," he told KCAL. "They made us feel safe, they got us in the rooms as fast as possible, making sure nobody was in the hallways, making sure everyone was fine. And then the cops showed up really fast."
The approximately 460-bed hospital is one of six health care facilities in Southern California operated by the not-for-profit MemorialCare system, run by Memorial Health Services.
Long Beach is about 25 miles (40 kilometers) south of downtown Los Angeles.