CARTHAGE – A lone gunman burst into a North Carolina nursing home Sunday morning and started "shooting everything," barging into the rooms of terrified patients, sparing some from his rampage without explanation while killing seven residents and a nurse caring for them.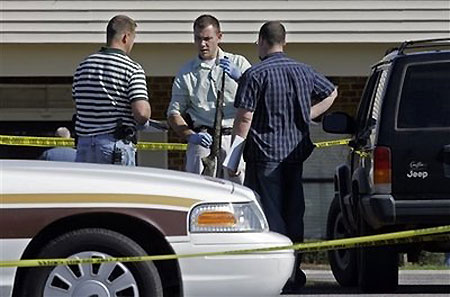 Investigators examine a weapon at the scene where a gunman opened fire at a nursing home Sunday morning, killing at least six people and wounding several others in Carthage, N.C., March 29, 2009.  [Agencies]
Authorities said Robert Stewart also wounded three others, including the Carthage police officer who confronted him in a hallway of Pinelake Health and Rehab and stopped the brutal attack.
"He acted in nothing short of a heroic way today, and but for his actions, we certainly could have had a worse tragedy," said Moore County District Attorney Maureen Krueger. "We had an officer, a well-trained officer, who performed his job the way he was supposed to and prevented this from getting even worse than it is now."
Related readings:


 At least 10 killed in Alabama shooting spree

 Ill. state police: 1 killed in church shooting


 Teen kills 15 and himself in school shooting spree

 10 hurt in French nursery school shooting
By late Sunday afternoon, Krueger had charged Stewart, 45, of Moore County, with eight counts of first-degree murder and a single charge of felony assault of a law enforcement officer. Authorities offered few other details, allowing only that Stewart was not a patient or an employee at the nursing home and isn't believed to be related to any of the victims.
"I don't know if the emotion entirely has set in," said Police Chief Chris McKenzie, a Carthage native who said nothing in his nearly 20-year law enforcement career compared to Sunday's slaughter. "It's a small community built on faith, and faith will get us through."
While authorities declined to comment on a possible motive, Stewart's ex-wife said he had been reaching out recently to family members, telling them he had cancer and was preparing for a long trip and to "go away." Sue Griffin said she was married to Stewart for 15 years, and while they hadn't spoken since divorcing in 2001, he had been trying to call her during the past week through her son, mother, sister and grandmother.
"He did have some violent tendencies from time to time," Griffin said. "I wouldn't put it past him. I hate to say it, but it is true."
Authorities said Stewart began his rampage around 10 a.m. at Pinelake Health and Rehab in the North Carolina Sandhills about 60 miles southwest of Raleigh, firing shots inside and outside the home. It ended when 25-year-old Officer Justin Garner traded gunfire with Stewart in a hallway, wounding the suspect.
"He just comes in and just starts shooting everything around," said Sen. Harris Blake, of Moore County, relating the story told by sheriff's officials.