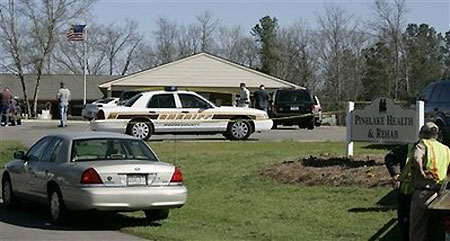 Investigators work at the scene where a gunman opened fire at a nursing home Sunday morning, killing at least six people and wounding several others in Carthage, N.C., March 29, 2009. [Agencies]
Garner was wounded in his leg, and police said Stewart wounded two others. One person remained hospitalized Sunday night at FirstHealth Moore Regional Hospital in nearby Pinehurst, and police would only say Stewart was in the custory of the Moore County Sheriff.
Krueger said the victims were Pinelake residents Tessie Garner, 88; Lillian Dunn, 89; Jessie Musser, 88; Bessie Hendrick, 78; John Goldston, 78; Margaret Johnson, 89; Louise Decker, 98; and nurse Jerry Avent, whose age wasn't immediately available.
Related readings:


 At least 10 killed in Alabama shooting spree


 Ill. state police: 1 killed in church shooting


 Teen kills 15 and himself in school shooting spree


 10 hurt in French nursery school shooting
Krueger declined to say where authorities had taken the surviving residents, including patients with Alzheimer's disease, saying only, "They're safe, which is the primary thing."
Beverly McNeill said her mother, Pinelake resident Ellery Chishole, called moments after the gunman stormed into her room and pointed his "deer gun" at her roommate. "They're up here shooting, they're up here shooting," she frantically told her 14-year-old granddaughter, Tavia, over the phone.
Chishole told her daughter she hid her face in her shirt so she couldn't see the man or what she expected him to do, McNeill said. He didn't shoot, but left the room and began shooting down the hallway.
Carthage police, Moore County sheriff's deputies and the State Bureau of Investigation conducted a search Sunday afternoon of the nursing home and its parking lot, where the windows of at least two cars were shattered. Among the items they found was a camouflaged-colored rifle or shotgun, which was leaning against the side of a Jeep Cherokee.
Howard McMillian, of Lakeview, said he raced to the scene as soon as he heard about the shooting. His 56-year-old sister lives at the nursing home, and McMillian said his brother had gotten a call from officials saying she was unharmed.
"I know she's real nervous," McMillian said. "I just want to make sure she's OK."
Carthage is a small town of roughly 1,800 people in the North Carolina Sandhills, an area popular among retirees and home to several noted golf courses, including the famed Pinehurst resort and its No. 2 course that regularly hosts the US Open.
Pinelake Health and Rehab was last inspected in May, and the review resulted in an overall five-star — or "much above average" — rating from federal Medicaid officials. A nursing home Web site said the facility opened in 1993 and has 110 beds, including 20 for those with Alzheimer's disease.