MELBOURNE, Australia -- A media report says a suspect has been charged with lighting one of the wildfires that killed more than 180 people in Australia last weekend.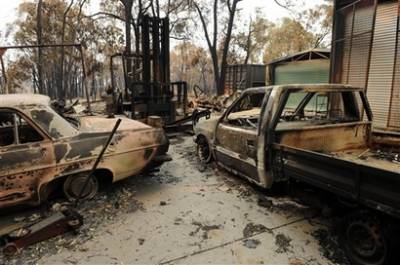 Burnt-out vehicles on a property in the town of Chum Creek, near Healesville, Friday, Feb. 13, 2009. [Agencies]
Related readings:


 Australia sets push for national fire alert system


 Millions of animals dead in Australia fires


 World offers help as Australia battles worst-ever bushfire

Australian Broadcasting Corp. reported Friday that the man was charged in court on three counts: arson causing death, lighting a wildfire and with possession of child pornography. The report cites no sources.
The man did not appear in the Morwell Magistrates Court, where he was ordered to undergo psychiatric evaluation.
The arson charges are connected to a blaze known as the Churchill fire, one of hundreds that raged through southeastern Victoria state last Saturday, killing more than 181 people and destroying almost 2,000 homes.