KINGLAKE, Australia -- Residents of towns scorched off the map by Australia's worst-ever wildfires on Wednesday returned to their homes for the first time and found scenes of utter devastation.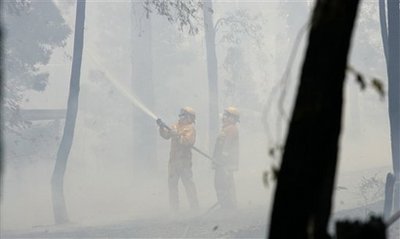 Firefighters use a hose to quench embers at a fire at Chum Creek, near Healseville, north east of Melbourne, Australia Tuesday, Feb. 10, 2009. Officials believe arson may be behind at least some of the more than 400 fires that tore a destructive path across a vast swath of southern Victoria state over the weekend. [Agencies]
Related readings:


 Australian fire zone a crime scene; 166 killed


 Koala rescued from Australia's wildfire wasteland

 Australian wildfire deaths will pass 200
Police said they were looking into reports of suspicious people picking through the ruins of some destroyed houses, as rumors that looting was taking place in abandoned areas swirled.
"Where do you start? Where do you start?" said Peter Denson, standing blank-faced amid the ruins of his home in Kinglake, where at least 39 people were killed - and the town all but destroyed - in Saturday's inferno.
Denson, a carpenter, has lived in Kinglake since 1977. He said he wants to rebuild, but his house, now a blackened pile of timber, bricks and twisted metal, was not insured because he could not afford it.
"It's like a big atom bomb has gone off," said Denson.
Authorities had sealed off some towns because the grim task of collecting bodies from collapsed buildings was proceeding slowly and because authorities wanted to prevent residents from disturbing crime scenes. Embers were still posing a threat of flare-ups.
Police say they suspect some of the fires were deliberately set, and that at least one suspect is being pursued. Australia's top law officer, Federal Attorney General Robert McLelland, said Wednesday anyone found guilty of lighting a fire that caused multiple deaths would face life in prison if convicted.
Prime Minister Kevin Rudd told the Seven Network late Tuesday "they should be allowed to rot in jail."
Victoria's Chief Commissioner of police, Christine Nixon, said there had been reports of suspicious behavior amid the destruction.
"We're having some reports of looting, but not a great deal," Nixon told Sky News television. "There are some reports from some people who are seeing strange people who are sifting through parts of houses that have been burnt."