HEALESVILLE, Australia -- Authorities searching for answers to the carnage from the worst wildfires in Australia's history said Tuesday they would rethink policies that allow residents to decide for themselves whether to evacuate their homes. An official said he expected the death toll to exceed 200.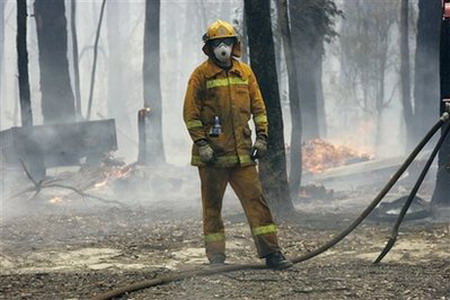 A firefighter stands by to man the pump on his truck at a fire at Chum Creek, near Healseville, north east of Melbourne, Australia Tuesday, Feb. 10, 2009. Official expected the death toll to exceed 200. [Agencies]
Authorities defended their preparation and actions during the fires that swept unchecked across southeastern Australia last weekend, saying the weather conditions were so extreme that it was almost impossible to avoid some level of catastrophe. The official death toll currently stands at 181.
Related readings:


 Australian fire zone a crime scene; 166 killed


 Arsonists blamed for 'mass murder' in Australia


 Australian fire zone a crime scene


 Thousands of phone lines damaged by bushfires in Australia
But they agreed all current policies would have to be reviewed to prevent a similar disaster from happening again.
Teams moving into towns burned out by the inferno found charred bodies on roadsides and in crashed cars, grim signs of futile attempts to flee raging wildfires fed by 60 mph (100 kph) winds, record heat and drought.
On Tuesday evening, Victoria state Premier John Brumby said the coroner had identified another 50 bodies that had not been counted in the official death toll.
"This is going to be a significant number, it will exceed 200 deaths," Brumby said.
Suspicions that some of the 400 blazes were caused by arson has led police to declare crime scenes in some incinerated towns. Police assistant Commissioner Dannye Moloney, who was appointed Tuesday to head the task force investigating the fires, said officials were preparing to release a sketch of a suspect in one of the fires, which killed 21 people.
The fires near Melbourne, Australia's second largest city at some 4 million people, destroyed more than 750 homes, left 5,000 people homeless, and burned 1,100 square miles (2,850 square kilometers) of land, the Victoria Country Fire Service said.
Three days after the wildfires, officials said their ferocity, pace and breadth made them impossible to fight effectively.
Still, this disaster would likely rewrite the books on what is considered best practice for handling fires, including the widespread policy of allowing residents in high-risk areas to decide for themselves whether to stay and fight or flee.
The policy recognizes that Australia's wildfire services, made up largely of volunteers, lack the resources to protect every house; thus, homeowners are allowed to try to protect their own property.
"It is the application of that policy and a lack of an alternative that we need to work on," Country Fire Authority chief Russel Rees told reporters Tuesday. But he conceded that evacuation orders were unlikely to be heeded by all, and would be hard to enforce during a fire emergency.
Victorian state Police and Emergency Services Minister Bob Cameron said his government would not consider making fire evacuations mandatory as it awaits the recommendations of a commission investigating the disaster.
"We know that when you have compulsory evacuation, you end up with lots and lots of collisions on the road," he told Australian Broadcasting Corp. television.
In Victoria, there is no formal alert system of text messages or phone calls to warn residents of approaching wildfires, though the state's Country Fire Authority regularly posts updates to its Web site on individual blazes along with advice for residents. The service's updates are also broadcast over the radio.
In the worst conditions, like Saturday's, the direction and intensity of fires can change so quickly that sirens, e-mail and other possible warning systems are not effective, officials say.
Brumby said a national emergency warning system for wildfires should be considered, and that he wrote to Prime Minister Kevin Rudd about the idea months ago.
Survivors were divided on the issue.