HEALESVILLE, Australia -- Firefighter David Tree and his crew were patrolling land already burnt out by Australia's devastating wildfires looking for flare-ups when he spotted a koala moving gingerly across the blackened landscape.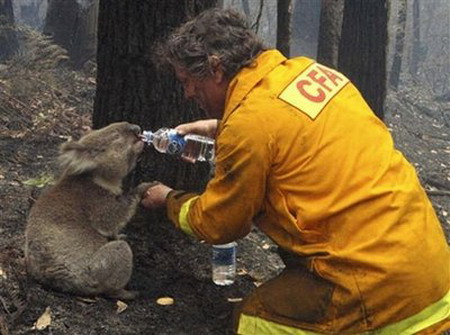 Local CFA firefighter David Tree shares his water with an injured Australian Koala at Mirboo North after wildfires swept through the region on Monday, Feb. 9, 2009. [Agencies]
"I just pulled the truck over, bailed out and went after him," Tree told The Associated Press on Tuesday. "I love nature, and I've handled koalas before. They're not the friendliest things, but I wanted to help him."
Related readings:


 Arsonists blamed for 'mass murder' in Australia


 Australian wildfire deaths will pass 200


 Death toll in Australian wildfires rises past 170


 Australian fire zone a crime scene; 166 killed
The koala, clearly in pain from scorched paws, stopped when it saw Tree following behind.
"It was amazing, he turned around, sat on his bum and sort of looked at me with (a look) like, put me out of my misery," Tree said. "I yelled out for a bottle of water. I unscrewed the bottle, tipped it up on his lips and he just took it naturally. He kept reaching for the bottle, almost like a baby."
The team called animal welfare officers as it resumed its patrols on Sunday, the day after the firestorms swept southern Victoria state. Tree says he's spoken to wildlife officials, and the koala, nicknamed Sam, is doing fine. And it turns out he's a she.
The rescue was one small bright moment in Australia's wildfire tragedy. Thousands of hectares (acres) have been burned out, almost 1,000 homes destroyed and more than 180 people killed.
Countless animals were killed in the disaster, which hit farming and forest regions to the north and east of the Victoria state capital of Melbourne, and many more fled in panic.
The Royal Society for the Protection of Animals said it was establishing shelters to care for thousands of pets and livestock affected by the disaster.