CANBERRA -- As Australia is combating raging bushfires in Victoria that has claimed more than 181 lives and destroyed entire towns, a number of countries have sent messages of support and sympathy and offers a helping hand.
A specialist New Zealand fire-fighting helicopter traveled to Australia on Wednesday. The helicopter is equipped with a 100-foot steel cable long-line which allows the 5,000-liter bucket to be put into water sources while the helicopter remains well above any obstacles.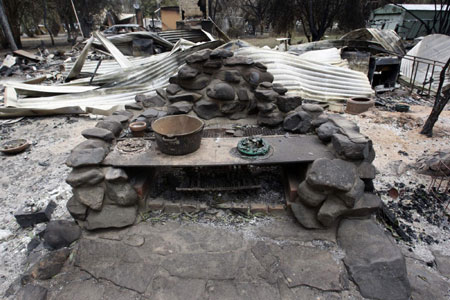 The remains of a house destroyed by bushfires is seen in the town of Flowerdale, 80km (50 miles) north of Melbourne February 11, 2008. [Agencies]
New Zealanders have so far donated 370,000 New Zealand dollars (about US$134,000) to the New Zealand Red Cross. The government has donated 500,000 New Zealand dollars (about US$181,000) to victims of the bushfires.
Six members of a New Zealand specialist police team also traveled to Australia on Wednesday to help identify victims of the bushfires
UN Secretary-General Ban Ki-moon said on Tuesday that he is " deeply saddened" about the deaths and injuries in bushfires in Australia.
Related readings:


 Australian bushfire toll at 171


 Australian bushfire threat falls with record temperatures


 Australian fire zone a crime scene; 166 killed


 Residents return to destroyed homes in Australia
Ban, in a statement issued here by his spokesperson, said that he "is deeply saddened about the deaths and injuries of hundreds of people as a result of bushfires in the state of Victoria in Australia."
"He extends deepest condolences to the families of those who have been killed or injured in the fires," the statement said.
Chinese Premier Wen Jiabao on Monday sent a message of condolences to Rudd over the raging wildfires that have caused a high death toll and huge damage in Australia.
Wen expressed his belief that the Australian government and people would manage to tide over the difficulties and make life in the disaster zone return to normal.
US President Barack Obama telephoned Australian Prime Minister Kevin Rudd after his first prime-time news conference Monday night.
"The president offered his prayers to the people of Australia and his condolences to the victims. The president asked if the US could provide assistance to the government and people of Australia to assist with the fire," said Obama spokesman Robert Gibbs.
More than 30 US firefighters were flying to Australia to join reinforcements from fire departments around the country who are heading to Victoria state.
The United States has also offered the expertise of aviation managers, planning section chiefs and specialists in land rehabilitation.  
British Prime Minister Gordon Brown told Rudd on Monday the United Kingdom was ready to help should that be required.
"The Prime Minister spoke to Kevin Rudd this morning to extend our sympathies to the Australian people, especially those families who have been affected by this tragedy," a spokesman for Brown said on Monday.
"He praised Kevin Rudd's leadership at this very difficult time, and said that the United Kingdom stood ready to provide any assistance that the Australian Government wanted," the spokesman said.
Singapore has offered Canberra the use of a fleet of helicopters based in Australia, Prime Minister Lee Hsien Loong said.
"If it would be helpful to your efforts, Singapore can offer the use of our Super Puma helicopters currently stationed in Oakey for your relief efforts," Lee said in a letter to Rudd, released by Singapore's foreign ministry late Monday. "We are also ready to help in any other way that we can."
The Super Puma helicopters are suitable for search and rescue operations and to transport people and equipment.
Indonesia has expressed deep condolences to Australia over the death of some 200 people in the bushfires saying it will send financial assistance and volunteers to the country, Indonesian state spokesman Dino Patti Djalal said on Wednesday.
The Indonesian government will provide 1 million US dollars and a forensic team to assist Australia, the spokesman said.
In a letter to Australian Foreign Minister Stephen Smith, Japan's Foreign Minister Hirofumi Nakasone extended "any cooperation" necessary from the Japanese.
Smith had also spoken to Indian Foreign Minister Pranab Mukherjee, who offered assistance, and Iran's Foreign Minister Mottaki Manouchehr, who sent wishes of solidarity.
Countries to offer practical help also include Turkey, Thailand and France. Other offers of sympathy and help came from Ireland, Mexico, Pakistan, South Africa and Sweden, Rudd told parliament on Wednesday.
Rudd said Australia welcomed each of the offers of support and expressions of sympathy from around the world.
"It is good that they have come," he said. "All Victorians and all Australians should know that in this darkest hour they are not alone."