HAVANA - Gustav slammed into Cuba's tobacco-growing western tip as a monstrous Category 4 hurricane Saturday while both Cubans and Americans scrambled to flee the storm as it roared toward the oil-rich Gulf of Mexico and New Orleans.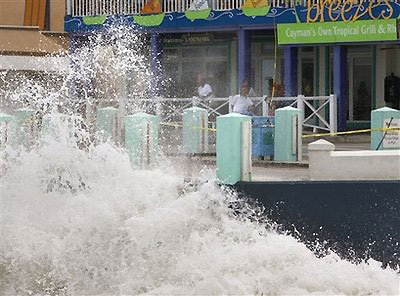 The rough sea caused by Hurricane Gustav surges along the waterfront in George Town, Grand Cayman Island, Saturday, Aug. 30, 2008. Gustav howled into Cuba's Isla de Juventud as a monstrous Category 4 hurricane on Saturday while both Cubans and Americans scrambled to flee the path of the fast-growing storm. Gustav is on a track to hit the US Gulf Coast, three years after Hurricane Katrina. [Agencies]
Forecasters said Gustav was just short of becoming a top-scale Category 5 hurricane as it hit Cuba's mainland after roaring over its Isla de Juventud province, where it toppled telephone poles, mango and almond trees and peeled back the tin roofs of homes.
Isla de Juventud civil defense chief Ana Isla said there were "many people injured" on the island south of mainland Cuba, but no reports of deaths. She said nearly all its roads were washed out and that some regions were heavily flooded.
"It's been very difficult here," she said on state television.
Related readings:


 Gustav becomes Category 3 hurricane off Cuba


 Hurricane Gustav swirls toward Caymans, Gulf


 Gustav threatens Caymans after swamping Jamaica

 Gustav kills nearly 70 in Caribbean, aims at US
Authorities evacuated at least 240,000 people from western Cuba, including Isla de la Juventud.
Gustav was projected to plow into the Gulf of Mexico at full force Sunday, and reach the US coast Monday afternoon. A hurricane watch was issued from Texas east to Florida.
More than a million Americans made wary by Hurricane Katrina took buses, trains, planes and cars as they streamed out of New Orleans and other coastal cities, where Katrina killed about 1,600 people in 2005.
Gustav already has killed 81 people by triggering floods and landslides in other Caribbean nations.
The US National Hurricane Center said Gustav had sustained winds of 150 mph (240 kph), and could become a Category 5 hurricane shortly, with winds above 155 mph (249 kph).
Cuba's top meteorologist, Jose Rubiera, said the hurricane's massive center made landfall in mainland Cuba near the community of Los Palacios in Pinar del Rio - a region that produces much of Cuba's famed tobacco.
He said the storm would bring hurricane-force winds to much of the western part of Havana, Cuba's capital, where power was knocked out as shrieking winds blasted sheets of rain sideways though the streets and whipped angry waves against the famed seaside Malecon boulevard.
Felled tree branches and large chunks of muddy earth littered crowded roads.
Cuba grounded all domestic flights and halted all buses and trains to and from Havana, where some shuttered stores had hand-scrawled "closed for evacuation" signs plastered to their doors.
Authorities boarded up banks, restaurants and hotels, and residents nailed bits of plywood to the windows and doors of their houses and apartments.
"It's very big and we've got to get ready for what's coming," said Jesus Hernandez, a 60-year-old retiree who was using an electric drill to reinforce the roof of his rickety front porch.