MIAMI - Hurricane Gustav strengthened into a major Category 3 storm on Saturday as it moved over warm Caribbean waters toward western Cuba, the US National Hurricane Center said.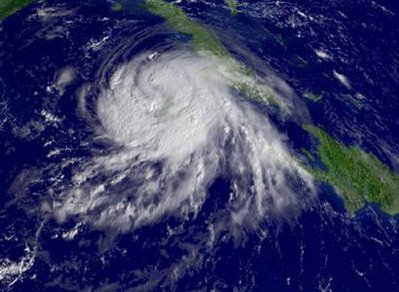 The center of Tropical Storm Gustav is pictured over the Caribbean Sea in this NOAA satellite image taken early August 29, 2008. [Agencies]  
Just before 6 a.m., the storm had maximum sustained winds near 115 mph (185 kph), making it a Category 3 storm on the five-stage Saffir-Simpson scale of hurricane intensity.
Related readings:


 Hurricane Gustav swirls toward Caymans, Gulf


 Gustav threatens Caymans after swamping Jamaica

 Gustav kills nearly 70 in Caribbean, aims at US


 Strengthening Storm Gustav heads south
Any storm packing winds of at least 111 mph (178 kph) is ranked "major" by the Miami-based hurricane center.
The storm, which killed up to 77 people in the Caribbean, is still on track to strike the heavy concentration of US oil and natural gas platforms off Louisiana. The most likely track has it going ashore west of New Orleans on Tuesday.
While long-range storm forecasts are prone to errors, the US National Hurricane Center said late Friday that Gustav could become a Category 4 storm within 48 hours.
In the hurricane center's latest advisory, it said six to 12 inches of rain could fall across the Cayman Islands and central and western Cuba, where flash flooding and mudslides were possible.
One to three inches of rain could fall over the Florida Keys and the southernmost parts of Florida by Sunday morning, it said.
US emergency officials, mindful of the devastation caused by Hurricane Katrina three years ago, warned that Gustav was expected to be accompanied by a 15- to 30-foot (5-to-9 meter) storm surge along the Gulf Coast, and said four states in its potential path were expected to begin large-scale evacuations on Saturday.
"This storm has the potential for being a very dangerous storm," said Bill Irwin, a program director with the US Army Corps of Engineers.