KINGSTON - Tropical Storm Gustav was blamed on Thursday for at least 68 deaths in the Caribbean and US forecasters said it could hit New Orleans and Gulf of Mexico oil fields as a potentially powerful hurricane next week.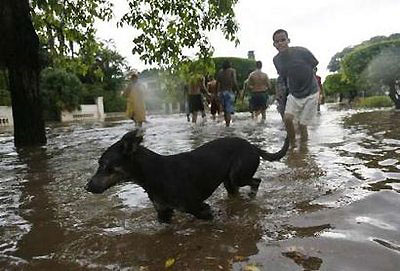 A dog and its owner walk through a flooded street in Havana August 26, 2008. Torrential rains hit the city as weather forecasters predicted on Tuesday that Hurricane Gustav would skirt the western coast of Cuba and enter the Gulf of Mexico as a powerful Category 3 hurricane with winds in excess of 100 mph by Sunday. [Agencies]
As Gustav churned through the Caribbean, Tropical Storm Hanna formed in the Atlantic Ocean with 40-mph (65-kph) winds. The eighth storm of a busy Atlantic hurricane season was on a track that could threaten the Bahamas and Florida, the US National Hurricane Center said.
Energy companies prepared for Gustav to deliver what could be the hardest hit to the heart of the US Gulf oil patch since the devastating 2005 hurricane season.
Related readings:


 Strengthening Storm Gustav heads south


 Tropical Storm Gustav to skirt coast


 New Orleans considers evacuation as Gustav looms
Oil prices rose above US$120 a barrel in early trade on Thursday, adding to gains all week, as Gustav aimed deep into the heavy concentration of oil and natural gas platforms off Louisiana and Texas
But crude prices fell back more than US$2 after the US government and the International Energy Agency pledged to release emergency stockpiles if Gustav disrupts production in an area that provides the United States with a quarter of its crude oil and 15 percent of its natural gas .
Gustav was 15 miles west of Kingston, Jamaica, at 8 pm EDT (midnight GMT), the hurricane center said. Its top sustained winds were 70 mph (110 kph), just short of the 74-mph (119 kph) hurricane threshold. Forecasters said it could become a hurricane by Friday.
New Orleans, the Southern US city ravaged by Hurricane Katrina three years ago, remained near the middle of the range of possible landfall locations on the US Gulf Coast.
Louisiana Gov. Bobby Jindal put New Orleans residents on alert for possible evacuations starting on Friday, the third anniversary of Katrina's strike, and issued a precautionary disaster declaration. A state of emergency was declared in neighboring Mississippi, which was also devastated by Katrina.