MIAMI - A strengthening Tropical Storm Gustav jogged to the south on Thursday and was likely to graze southern Jamaica and the western tip of Cuba before nearing the oil fields of the Gulf of Mexico as a powerful hurricane.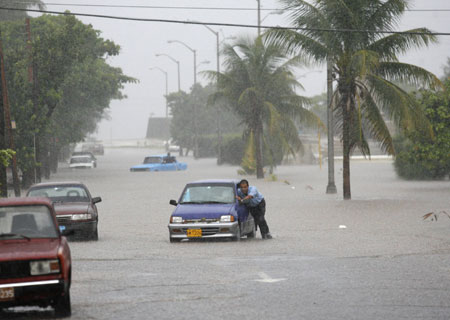 A man pushes his car through a flooded street in Havana August 26, 2008. Torrential rains hit the city as weather forecasters predicted on Tuesday that Hurricane Gustav would skirt the western coast of Cuba and enter the Gulf of Mexico as a powerful Category 3 hurricane with winds in excess of 100 mph by Sunday. [Agencies] 
The eventual US landfall of the seventh storm of what experts have predicted will be an unusually busy Atlantic hurricane season also shifted west in the latest model runs. That would take it deeper into the heavy concentration of US oil and natural gas platforms off the Louisiana and Texas coasts.
"An Air Force reconnaissance plane has found a surprise this morning," the US National Hurricane Center said. "Gustav has either reformed to the south or been moving more to the south-southwest overnight."
At 7:30 a.m. EDT, Gustav was 80 miles east of Kingston, Jamaica, and its top sustained winds had risen again to 70 mph (110 km per hour), just short of the 74 mph (119 kph) threshold for hurricanes.
New Orleans, the southern US city devastated by Hurricane Katrina three years ago on Friday, remained near the middle of the Miami-based hurricane center's range of possible landfall locations on the US Gulf Coast.
Louisiana Gov. Bobby Jindal put New Orleans residents on alert for possible evacuations from Friday.
Gustav barged ashore as a hurricane in Haiti on Tuesday but lost much of its steam as it was clobbered by the high mountains of the impoverished and flood-prone Caribbean country. Its torrential rains killed at least 23 people there and in the neighboring Dominican Republic.
But the storm, which has fueled a rally in oil prices because of its threat to the offshore rigs that provide the United States with a quarter of its crude and 15 percent of its natural gas, began to strengthen quickly on Thursday.
"It is expected that Gustav will be a powerful hurricane as it moves into the southern Gulf of Mexico on Sunday," the hurricane center said.
Gustav is the first serious Atlantic storm since the devastating 2005 hurricane season to threaten New Orleans, and the Gulf oil installations.