With Dmitry Medvedev sworn in as Russia's president on Wednesday, all eyes will be on how the 42-year-old leads the Kremlin.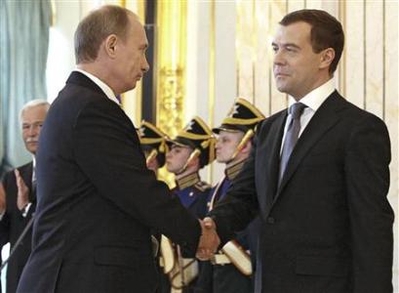 Russia's President Dmitry Medvedev (R) and former president Vladimir Putin shake hands during an inauguration ceremony in Moscow's Kremlin throne room May 7, 2008. [Agencies] 
For more photos
But what is likely to remain is his predecessor Vladimir Putin's grand foreign policy strategy in the next four years, including Moscow's stance toward China, Chinese analysts have said.
Like Putin, Medvedev will prioritize Moscow's ties with Beijing - the new Russian leader said recently that China would be among the destinations of his first state visit.
"As I promised on the night of the (presidential) election, I will first go to Kazakhstan And from there to China. This will be my first international journey (as president)," Medvedev said in an interview with Russian weekly Argumenty i Fakty on April 29.
Related readings:


 Medvedev sworn in as Russian president


 Medvedev nominates Putin as prime minister


 Putin hosts farewell meeting with government officials

"Medvedev is giving priority to China in Russia's foreign relations with major powers," Professor Xu Tao of the China Institute of Contemporary International Relations told China Daily.
"It also means that Medvedev will continue the foreign policy course charted by Mr Putin," he said.
The two countries established a strategic partnership during the Putin administration in 2001.
Medvedev has long been involved in promoting this partnership during the Putin administration and his tenure will bring more confidence to the future of bilateral ties, he said.
"Putin initiated the grand strategy, that Russia should enjoy a sound relationship with China. But a noteworthy point is that Medvedev was the one who did the concrete work to implement Putin's strategy," Xu said.
As the new president comes to the fore, the changing role of Putin is also being watched closely - he was nominated as Russia's new prime minister soon after Medvedev's inauguration ceremony.
Many have questioned the Medvedev-Putin partnership, on who would be the real leader.
The New York Times said "there was no doubt that Medvedev was taking charge of a portfolio and a position more difficult than the celebrations will suggest".
The Independent newspaper also questioned Medvedev's power. "Putin is expected to continue wielding enormous power in an expanded prime ministerial role," the London-based paper said.
The reports reflected the West's fear of the uncertainty of Russia's future as the country grows in strength, Chinese analysts have said.
"Russia is much stronger than it was eight years ago. The behavior of the country is closely related to the interest of the West as Moscow is on a much better position in dealing with the two most important problems - food and oil - than the West," Professor Xia Yishan of the China Institute of International Studies was quoted as saying by the Global Times, a Beijing-based paper.