WASHINGTON -- Barack Obama is closing in on Democratic presidential rival Hillary Rodham Clinton's advantage among superdelegates, building on his lead in the primary race even as he faces troubled times.
Party leaders are encouraging superdelegates to pick a side by late June to prevent the fight from going to the national convention in August, and it seems some are listening as the race enters its final five weeks of voting.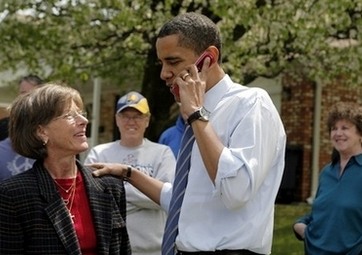 Mary Masceri watches as Democratic presidential hopeful, Sen. Barack Obama, D-Ill., talks on the phone with Mary's husband Frank Masceri during conversations with working families in Beach Grove, Ind., April 30, 2008. [Agencies]
Chelsea Clinton got a superdelegate for her mom while campaigning in Puerto Rico on Wednesday, just as Obama press secretary Bill Burton sent out a statement announcing the support of Rep. Lois Capps. The statement didn't mention the personal connection -- Capps is Burton's mother-in-law.
Clinton had a big jump start among superdelegates, many of whom have ties to the Clintons and backed her candidacy early on. But most of the superdelegates taking sides recently have gone for Obama, who has won more state contests.
Obama trails Clinton by just 21 superdelegates, 243-264, cutting her lead in half in less than two months. This week, he picked up seven delegates to her four.
The superdelegate chase is a key piece of good news for Obama in what has been a bad week. The Illinois senator is coming off a big loss in Pennsylvania, steeped in controversy surrounding his outspoken former pastor while Clinton fares better against Republican likely nominee John McCain in the latest Associated Press-Ipsos poll.
But the problems aren't stopping his ability to win support from superdelegates who are likely to cast the deciding votes in the Democratic race.
Rep. Bruce Braley of Iowa said he decided to endorse Obama even though his former pastor, Rev. Jeremiah Wright, has been creating waves by making controversial statements and suggesting that Obama secretly agrees with him. Obama denounced Wright in a news conference Tuesday and said the pastor does not speak for him.
"That's been one of the most frustrating things about this prolonged campaign, is we seemed to have gotten away from the critical issues that started this campaign during the Iowa caucuses and now it's more about the side spectacle than the issues that voters really care about," Braley said. "I'm confident that he has taken this issue head-on. He has addressed it in a thoughtful and enlightened way."
Superdelegates are nearly 800 elected leaders and Democratic party officials who aren't bound by the outcome of state contests and can cast their ballot for any candidate at the national convention. They are especially valuable in this race since neither Clinton nor Obama can get enough delegates to win the nomination through the primaries and caucuses held across the country.
Obama now leads in the delegate count overall 1731.5 to 1598.5 for Clinton. A candidate needs 2,025 delegates to win the nomination. About 230 superdelegates remain undecided, and about 60 more will be selected at state party conventions and meetings throughout the spring.
Clinton had stalled in drawing their support as Obama won more states than she, but Clinton won Pennsylvania last week and has been able to announce a new supporter every day this week — two on Wednesday.
The Clinton campaign said Luisette Cabanas, vice chair of the Democratic Committee in Puerto Rico, came on board while the candidate's daughter Chelsea was campaigning on the island. Cabanas cited Clinton's policies, especially on health care, as "the best by far of any candidate in history."
"Today I endorse Hillary Clinton for president because of her strong win in Pennsylvania," Cabanas said in a statement. "She has shown a firm conviction and the character needed to lead the nation."
Capps said it wasn't an easy decision to pick between Obama and Clinton. She has family ties to both candidates -- Obama's spokesman is married to her daughter, Laura Burton Capps, who also worked in the Clinton White House.
Lois Capps filled the congressional seat held by her late husband, Walter Capps, when he died suddenly 10 years ago. Bill Clinton had campaigned for Walter Capps and presided over his congressional memorial service.
Capps said Hillary Clinton would be a great president and fill a dream for those who have fought for women's rights. But she said Obama's call for a change in Washington was the most important factor in winning her support.
"Walter once said that 'we are strongest as people when we are directed by that which unites us, rather than giving into the fears, suspicions, innuendoes and paranoias that divide,'" she said in a statement. "For years I have been waiting for a president that speaks to that vision. I believe Barack Obama may very well be that rare leader."
Two of the most important superdelegates to sign on this week come from the states that vote next -- North Carolina and Indiana, which hold primaries on May 6 and are the largest states left to vote. Obama got the support of Rep. Baron Hill of Indiana, while Clinton won the backing of North Carolina Gov. Mike Easley even though Obama is expected to win the state.