WASHINGTON -- Gen. David Petraeus, the top US commander in Iraq, was promoted to the head of all American forces in the Middle East and Central Asia, Secretary of Defense Robert Gates announced Wednesday.
Praising Petraeus for his "successful his current assignment," Gates said at a Pentagon press event that he is "absolutely confident" that the general is the best man for the job.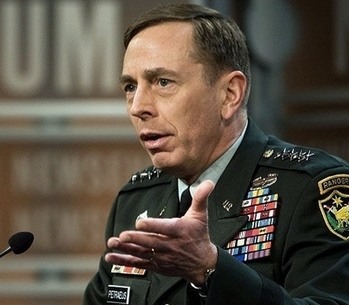 US Army General David Petraeus, the top US commander in Iraq, delivers remarks on April 10, 2008 in Washington, DC. Petraeus has been named to head US forces in the Middle East, US Defense Secretary Robert Gates said Wednesday. [Agencies]
If confirmed by the Senate, Petraeus, 55, would succeed Admiral William Fallon, who stepped down last month after a dispute with the Bush administration over perceived policy differences on Iran and reports that he had clashed with Petraeus over how deeply to draw down troop levels in Iraq.
The promotion to become the head of the US Central Command would expand Petraeus' responsibilities to the war in Afghanistan.
Lt. Gen. Raymond Odierno, the former deputy top commander in Iraq, will succeed Petraeus' current post.
Gates dismissed the notion that Petraeus' elevation could be interpreted as a sign that the US position toward Iran was hardening.
Petraeus was named to command US troops in Iraq in late 2006 by President George W. Bush and directed the president's troop "surge" plan.
The general proposed a delay of at least 45 days to pause troop withdrawal beyond July to evaluate the situation when he reported Iraq's situations to the Congress early this month, which was endorsed by Bush.
In a related development, another former commander in Iraq, Lt.Gen. Peter Chiarelli, will be promoted to be the Army's vice chief of staff, a post originally had been slated for Odierno.