NEW YORK -- Crude futures approached US$120 a barrel Tuesday on the weak US dollar and supply concerns.
Light, sweet crude for May delivery, which expired Tuesday, hit US$119.90 on the New York Mercantile Exchange, refreshing its intraday high. The May contract settled at 119.37 a barrel, a new record high, up US$1.89 from previous day.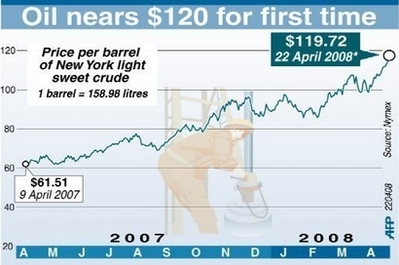 Chart showing New York sweet light crude oil prices since April 2007. World oil prices jumped to record peaks above 119 dollars on Tuesday in response to the weak US dollar, unrest in Nigeria and OPEC's reluctance to hike output, traders said. [Agencies]
Hedge Against Inflation
"Crude oil continued its upward march today due to host already familiar factors," Wall Street Strategies' senior research analyst Conley Turner told Xinhua. "Among the primary reasons being was the fact that the dollar declined to an all time low against the euro."
The euro surged above $1.60 level for the first time Tuesday as officials at the European Central Bank (ECB) officials indicated that they will increase interest rates if inflation does not come down. The 15-nation single currency euro reached as high as $1.6018.
"This prompted market participants to flow into commodities as these act as a hedge against inflation," said Turner.
"The fact that the euro is strengthening against the dollar only fosters higher oil prices. The US dollar has an inverse relationship to the price of a barrel of crude. As opposed to their US brethren, ECB officials appear determined to combat rising inflation," added the analyst.
The slumping US greenback has helped boost dollar-denominated commodities like oil and attracted speculative inflows from hedge funds.
Crude prices surged about 24 percent this year, nearly double their closing price a year ago.
Supply Concerns
"Another factor contributing for the days was the disruption in supplies in Nigeria due to attacks by rebels on production facilities," said Turner. "Also, there is a threat of a strike at a refinery in the U.K. that is affecting the price move today."
Nigeria, the biggest crude oil producer in Africa, is running below its capacity because of unrest in the nation. Royal Dutch Shell said Monday that it had been forced to shut in about 169,000 barrels a day of crude exports through May after a separate pipeline attack last week.
A threatened labor strike at Ineos PLC's 196,000 barrel-a-day Grangemouth refinery in the UK also stirred worries that a shutdown could disrupt production from North Sea oil fields.
"At this point, the momentum is clearly in favor of the oil bulls. While, a short term pull back will inevitably occur, it is extremely difficult to predict when this will occur," Turner added.
"In fact, many a fortune has been lost trying to predict tops. Even with a pull back, it is likely to see oil at $125 per barrel sooner rather than later," he pointed out.
Other energy futures also set new record on Tuesday. May gasoline futures rose 3.73 cents to settle at $3.0164 a gallon after rising to a trading record of $3.025, while May heating oil futures hit their own trading record of $3.35.