UNITED NATIONS -- The United Nations hosted on Monday a high-level meeting of international trade and finance officials to discuss measures to deal with policy challenges and emerging issues in development finance.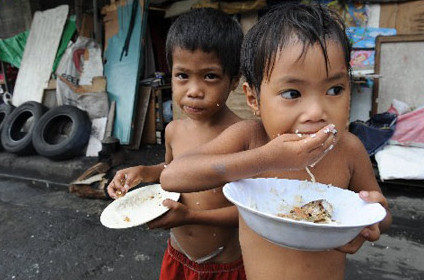 Filipino children living in a slum area Jordan Buhawi, 5, (L) and his sister Sunshine, 4, (R) eat a meal of rice mixed with noodles and dried fish in Manila in this undated photo. [Agencies]
Participants at the annual high-level meeting of the UN Economic and Social Council (ECOSOC) included senior officials from the World Bank, the International Monetary Fund, the World Trade Organization (WTO) and the UN Conference on Trade and Development (UNCTAD). The officials came to the UN meeting to consult with the ECOSOC following their weekend talks in Washington.
Addressing the opening session, UN Secretary-General Ban Ki-moon spotlighted the growing global food crisis, calling for both immediate and long-term measures to tackle it.
"The rapidly escalating crisis of food availability around the world has reached emergency proportions," he said, warning that the crisis could not only push millions of people deeper into poverty but also have larger political and security implications.
"The international community will also need to take urgent and concerted action in order to avert the larger political and security implications of this growing crisis. The UN needs to examine ways to lead a process for the immediate and longer-term responses to this global problem," he said.
Turning to the theme of meeting, Ban called for building consensus around measures on development financing that would lead to more stable and predictable long-term resource flows to developing countries.
ECOSOC President Leo Merores said that new initiatives on financing for development could play a crucial role in increasing and complementing existing official development assistance.
"In a true partnership for development, developed and developing countries have come together to explore further innovative ways of financing for development," Merores said, adding that the council could play an important role in strengthening that international cooperation in the future.
Despite the progress already achieved, many middle-income countries continued to face challenges to the alleviation of poverty and inequality, the improvement of trade competitiveness and the building of solid infrastructures, Merores added, urging greater international cooperation to help resolve those issues.
The high-level gathering focused on new and emerging issues, including financing of climate change responses, sustainability of financial markets, impact of trade on middle-income as well as least developed countries and -- in a mid-term year for the Millennium Development Goals -- identifying and mobilizing new resources for supporting development.
The meeting was held as a follow-up to the 2002 Financing for Development summit held in Monterrey, Mexico, and as preparation for a major inter-governmental development financing review which is to take place at the end of this year in Doha.
The Conference on Financing for Development in Doha will assess progress made in the areas of trade, aid, debt, international investment, domestic resources and the architecture of the international financial system.