ROME - Two-time premier Silvio Berlusconi has taken a narrow lead in Italy's general election, exit polls showed Monday.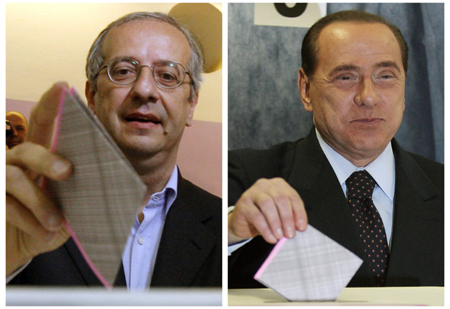 Italy's centre-left leader Walter Veltroni (L) and centre-right leader Silvio Berlusconi vote at polling stations in Rome and Milan in this combination picture taken April 13, 2008. [Agencies] 
A Sky TV poll placed Berlusconi ahead of his main rival, former Rome mayor Walter Veltroni, by two percentage points in the lower house of parliament and three points in the Senate.
A second poll for state TV also showed Berlusconi as slightly ahead in the elections for both houses of parliament.
The preliminary results were released immediately after the over 61,200 polling stations across the country closed at 3:00 p.m. local time (1300 GMT) in a two-day vote.
Official results are expected Tuesday.
Of Italy's 58.2 million people, 47.3 million were eligible to vote for 630 members in the lower house and 43.2 million could vote for 315 elected members in the Senate or upper house of parliament.
Under Italy's electoral system, voters couldn't choose each parliamentary candidate, but had to select from lists headed by 32 hopefuls for the prime minister's position.
The 71-year-old conservative Berlusconi, who is seeking a third term, and center-left leader Veltroni, 52, are regarded as the two main contenders in the tight race.