ROME -- Media mogul Silvio Berlusconi won his third term as Italy's prime minister on Monday after defeating former Rome mayor Walter Veltroni in the general election.
Center-left Veltroni conceded his defeat after early results showed Berlusconi's center-right coalition won a comfortable majority in both the lower house and the Senate of the national parliament.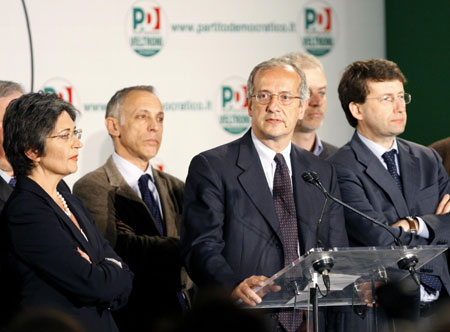 Italy's centre-left leader Walter Veltroni concedes defeat at Democratic Party (PD) headquarters in Rome April 14, 2008. [Agencies]
"As is customary in all Western democracy, and as I feel it is right to do, I called the leader of the People of Freedom, Silvio Berlusconi, to acknowledge his victory and wish him good luck in his job," Veltroni told reporters.
Berlusconi has not spoken to the public yet after the victory.
A projection by state television RAI showed Berlusconi's People of Freedom party and its allies took 166 seats in the Senate, compared to 138 for Veltroni's Democratic Party and its partner, Italy of Values.
In the lower house, or the Chamber of Deputies, Berlusconi took the lead with 45.9 percent of votes compared with Veltroni's 38.9 percent, a wider margin than initial exit polls.
Though official results have not come out yet, Veltroni said the result has been clear, but he warned it would be difficult for Berlusconi to hold his alliance together throughout the five-year term.
Berlusconi joined hands with two small right-wing parties, the Northern League and the Movement for Autonomy. Both want to see powers devolved from the state to regions.
The general election was called after the government led by centre-left Premier Romano Prodi collapsed in January.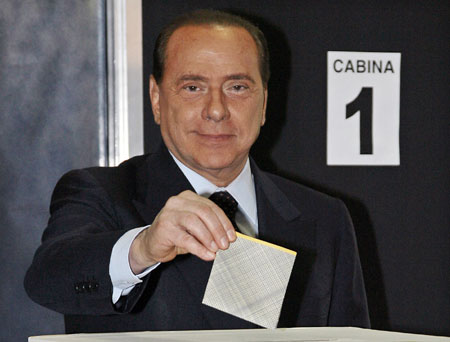 Italian PDL (Party for Liberty) centre-right leader Silvio Berlusconi votes at a polling station in Milan, northern Italy, April 13, 2008. [Agencies]
Lasting only 20 months, Prodi's government fell since he lost majority in the Senate when one of his nine allies, the UDEUR headed by then justice minister Clemente Mastella, quitted the coalition, which could also happen to the new government of Berlusconi.
Italy has been in years of political instability due to its complex electoral system, with 61 governments in place since the end of World War II. The only government that survived its full five-year term in the past half century is led by Berlusconi between 2001 and 2006.