Although Lhasa resident Losang was not directly affected by the March 14 riots, he said the incident has left him feeling confused.
"We used to respect the monks so much that some farmers would donate their entire earnings to the temple," the 56-year-old said.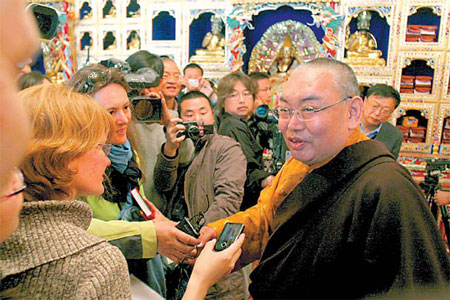 Jamyang Losang Jigme Tubdain Qoigyi Nyima, a living Buddha of the Labrang Lamasery, received interviews during a recent media tour to the Gansu Province. [China Daily]
"But we were so disheartened to see them leading the riots in March and participating in violence. We really don't know how to face them in the future," Losang said, while turning prayer wheels under Potala Palace, which reopened to the public late last month after being closed for 10 days due to the unrest.
Many local people share Losang's confusion following the unruly behavior of some monks, who they had previously regarded as peaceful and loving.
Nine monks from the Tongxia monastery in eastern Tibet have been arrested, after they detonated a homemade bomb at a government building in the town of Gyanbe on March 23.

Jamyang Losang Jigme Tubdain Qoigyi Nyima, a living Buddha of the renowned Labrang Lamasery in a Tibetan autonomous prefecture of Gansu province, said the violent activities instigated by separatists had tainted the image of lamas and left people disheartened.
Addressing a recent media tour organized by the State Council Information Office, Jamyang, who is also vice-president of the Tibetan Chapter of the Buddhist Association of China, said the events in Gansu were nothing but blatant examples of separatism and insanity.
Following the March 14 riots in Lhasa, a series of incidents involving assault, vandalism, looting and arson broke out in the counties of Xiahe, Maqu, Luqu and Jone and the city of Hezuo in the Gannan Tibetan autonomous prefecture.
Ninety-four people were injured in the riots in Gannan, which also caused 230 million yuan ($32.9 million) worth of damage. The injured included 91 police officers, two government officials and one civilian, the local government said.
"The saboteurs' actions showed their true nature to the Tibetan people," Jamyang, who is one of the most revered religious leaders in the country, said.
"I was truly saddened that some of my disciples from the Labrang Monastery took part in the destruction. Usually the public and other religions respect and honor the lamas. But after that, when people speak of lamas, they will associate the names with the bad deeds that a few committed," he said.
Many disciples in the temple are worried about the future of the lamasery, he said.
"Most of our disciples in the temple were angry at the reckless ruination of lives and properties, and we prayed to the Buddha that such destruction never happens again," he said.
Labrang will not expel any of the disciples who were engaged in the riots, he said.