WASHINGTON - Sen. Hillary Rodham Clinton outlined an aggressive 100-day presidential agenda on Tuesday and Sen. Barack Obama promised to "play offense for working Americans," both rivals observing something of a lull in an increasingly personal Democratic nomination struggle.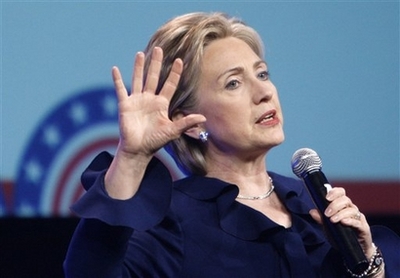 Democratic presidential hopeful Sen. Hillary Rodham Clinton, D-N.Y., takes questions from the audience, April 15, 2008, at the Newspaper Association of America convention in Washington. [Agencies]
One week before the Pennsylvania primary, Clinton was jolted with a fresh reminder that party elders have no appetite for a campaign that drags into the convention in late August. Rep. Barney Frank, D-Mass., said the candidate who trails in the delegate chase should quit by June 3. "Probably sooner," he told The Associated Press in an interview.
The former first lady currently trails Obama by 136 delegates in the AP count, and the odds are poor that she will be able to overtake Obama by the time the primaries end on the first Tuesday in June.
Clinton became the third of the three remaining presidential hopefuls to appear before newspaper editors at their convention, following appearances by Obama and Republican Sen. John McCain on Monday.
She accused Bush of having expanded executive power to the detriment of the Constitution, while often operating in secrecy.
"I'll end the use of signing statements to rewrite the laws Congress has passed. I'll shut down Guantanamo, disavow torture, and restore the right of habeas corpus," she said.
"And I'll end the practice of using executive privilege as a shield against the public's right to know and Congress's duty to oversee the president."
Clinton's 100-day agenda included the start of a troop withdrawal from Iraq and submitting a budget to Congress that rolls back some of Bush's tax cuts. She also promised to sign bills he has vetoed to expand federal embryonic stem-cell research and broaden government-supported health care to millions of lower-income children who now go without.
"In short, starting from Day One, the Bush-Cheney era will be over in name and in practice," she said at a meeting of the Newspaper Association of America.
For his part, Obama promised a union audience he would reverse a decision by Bush that effectively lowered wages for construction crews on government projects, and he mocked McCain in the process.
"He seems to think Davis-Bacon is something that comes from a pig farm," Obama said, referring to the law that covers wages on government construction projects.
Like Clinton, Obama said he was ready to move away from Bush's policies.
"We're ready to play offense for the minimum wage. We're ready to play offense for retirement security," he said.