BUCHAREST -- US President George W. Bush said Thursday he regretted that Macedonia had not been invited to join NATO at the alliance's summit in Bucharest.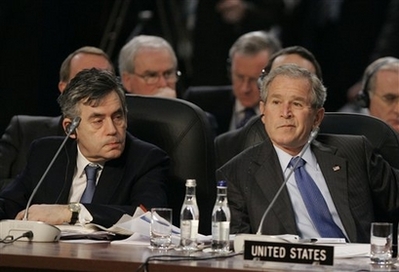 US President George W. Bush and British Prime Minister Gordon Brown sit next to each other at the start of the NATO Summit conference in Bucharest, Thursday April 3, 2008. [Agencies]
"We regret that we were not able to reach consensus today to invite Macedonia to join the alliance," Bush told a meeting of NATO leaders with those of the two countries invited to join NATO -- Croatia and Albania.
"Macedonia has made difficult reforms at home. It is making major contributions to NATO missions abroad," he said.
Related readings:


 NATO leaders endorse US plan for missile defense system in Europe


 Canada confirms NATO to send more troops to Afghanistan


 Bush presses NATO on Ukraine, Georgia, Afghanistan


 Bush pushes for NATO expansion


 France won't back Ukraine's NATO bid


 Moscow warns against Georgia's NATO entry


 Medvedev warns against NATO membership for Ukraine, Georgia
Bush said the name issue between Macedonia and Greece needs to be resolved quickly so that Macedonia can be invited to join NATO as soon as possible.
"In the interim, NATO needs to intensify its engagement with Macedonia to make sure that NATO looks forward to the day when Macedonia takes its place among the members of the Atlantic alliance," said Bush.
The failure to invite Macedonia as well as NATO's refusal to give pre-membership arrangements to Ukraine and Georgia are seen as setbacks for Bush, who had pushed strongly on both issues.
Macedonia's bid was blocked by Greece, which fears that the former Yugoslav republic's constitutional name -- Republic of Macedonia -- implies territorial ambition for the neighboring northern Greek province of Macedonia.
Macedonia was disappointed at the result.
"It is very regrettable ... that Macedonia's bid for NATO membership was punished not because what we have done, but because of who we are," Macedonian Foreign Minister Antonio Milososki said Thursday.
Milososki said, however, Macedonia would not give up its efforts to join NATO because of the setback.
"Macedonia is prepared and ready to get NATO membership," he told reporters, adding his country would continue to cooperate with NATO.
Milososki remained tough on the name issue.
"Republic of Macedonia is the name of the real, existing country with the real, existing people. And that is the cornerstone of the national identity of the Macedonians," Milososki said.
A group of Macedonian journalists Thursday walked out of a press conference by NATO Secretary General Jaap de Hoop Scheffer to protest the decision.
Greek Foreign Minister Dora Bakoyannis said her country would like to see Macedonia join NATO in the future. But she reiterated the position that Macedonia must change its name first.