BUCHAREST, Romania: Russian President Vladimir Putin strongly criticized NATO's expansion plans on Friday but ruled out the chances of a new Cold War, insisting that Moscow wanted to be "friends" with the Western military alliance.
Putin, attending a meeting with NATO leaders on the sidelines of a summit in the Romanian capital of Bucharest, urged them to listen to Russia's concerns - especially over NATO's plans to admit Ukraine and Georgia in the future.
"Let's be friends, guys, and engage in an honest dialogue," Putin said.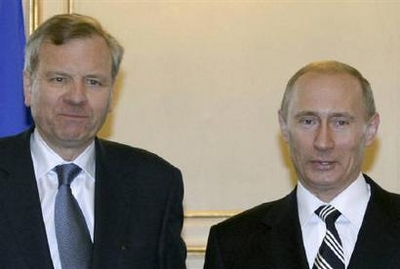 NATO Secretary-General Jaap de Hoop Scheffer (L) stands with Russian President Vladimir Putin during their meeting at the NATO summit in Bucharest April 4, 2008. Putin urged NATO to work towards compromise on disputes over enlargement, arms control and missile defence at a cordial farewell summit on Friday. [Agencies]
Putin, who had been harshly critical of NATO in the past, sought to emphasize positive elements in Russia's NATO ties, such as Russia's agreement to facilitate transit of NATO supplies for its forces in Afghanistan across Russian territory. He shrugged off allegations that the world is sliding toward a new East-West divide.
"None of the global players - Europe, the United States or Russia - is interested in returning to the past," Putin said. "And we have no ideological differences."
But he also strongly warned the alliance that it could not enhance security on the continent without Russia.
"The emergence of the powerful military bloc at our borders will be seen as a direct threat to Russia's security," Putin said. "I heard them saying today that the expansion is not directed against Russia. But it's the potential, not intentions, that matter."
"The efficiency of our cooperation will depend on whether NATO members take Russia's interests into account," he added.
"We want to be heard, and we want to see problems that divide us solved."
Putin also said he was encouraged that Washington had listened to Russian concerns about the planned US missile shield site.
"What is positive in today's dialogue is that our concerns about ensuring our own security ... have been heard," Putin told a news conference after meeting US President George W. Bush and other NATO leaders in Bucharest.
"The visit to Russia of the US Defense Secretary (Robert Gates) and the US Secretary of State (Condoleezza Rice) showed that our US partners are thinking about measures to improve confidence and transparency and that work will continue," he said of their visit to Moscow last month.
Washington plans to install 10 interceptor missiles in Poland and a tracking radar in the Czech Republic as part of the missile defense system.
The US has said that the shield is necessary to protect against missile strikes by what it calls rogue states.