BAGHDAD -- Two bombs went off within minutes of each other in a crowded shopping district in the capital Thursday, killing at least 53 people and wounding 130 -- a reminder that deadly attacks are a daily threat even though violence is down.
There were no immediate claims of responsibility. But back-to-back bombings -- designed to maximize carnage -- became the hallmark of attacks on civilians by al-Qaida in Iraq during the worst of the violence in Baghdad in 2006.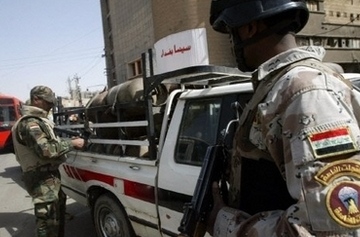 Iraqi soldiers search a truck at a checkpoint in Baghdad on March 4, 2008. At least 15 people were killed and 35 others wounded in two roadside bombings in central Baghdad on Thursday. [Agencies]
Like in previous such attacks, the tactic seeks to draw in the people with the first blast -- especially security and medical workers -- before a second bomb detonates.
Iraqis were enjoying a pleasant spring evening when a roadside bomb hidden under a vendor stall detonated in the primarily Shiite, middle-class Baghdad neighborhood of Karradah. Five minutes later, a suicide bomber wearing an explosive belt detonated, Mohammed al-Rubaie, the head of the Karradah municipality, told the state-run Al-Iraqiya TV.
Related readings:


 US military says 2,000 troops leaving Iraq


 Top US military officer concerned about Iraq withdrawal timetable


 Official: US president can keep troops in Iraq even after UN mandate expires


 Ahmadinejad: US power crippling in Iraq


 Car bombing kills 12 in Baghdad


 Suicide attack kills 25 south of Baghdad
He said more than 50 civilians were killed and more than 100 injured. Many of the victims were teens or young adults, and four were women, police and officials at three hospitals said.
Interior Ministry officials and hospital officials said 53 people were killed and 130 were wounded. The officials spoke on condition of anonymity because not authorized to speak to media.
Hassan Abdullah, who owns a clothing shop in the area, said he was walking to the site of the first blast to see what happened when the second bomb went off.
"I saw a leg and a hand falling near me as I was walking. The whole place was a mess. Wounded people were crying for help, and people started to run away," said Abdullah, 25. "The aim of such attacks is the random killing of as many people as possible in order to terrorize Iraqi people."
A police officer said the blasts also damaged seven shops and four parked cars. Like the rest of those who provided information, he spoke on condition of anonymity because he wasn't authorized to release information.
Violence has dropped substantially in Baghdad over the last half-year with the boost in US troops, a cease-fire by a powerful Shiite militia, and many Sunni fighters turning against al-Qaida in Iraq. But multiple killings are still a daily occurrence.
Southeast of Baghdad, the US military said it discovered a home in a farming area that served as an al-Qaida in Iraq training facility and prison.
The brick house was located on a dirt road in a remote area of Zambraniyah, about 20 miles southeast of Baghdad.
From the outside, nothing appeared unusual. But inside the house, found handcuffs attached to the floor and another connected to a barred window, hooks used to hang people attached to a wall and interrogation books written in Arabic, the military said.
"It looked like there were remnants where people suffered," said Spc. Daniel Murray, of Troop C, 6th Squadron, 8th Cavalry Regiment, 4th Brigade Combat Team, 3rd Infantry Division, who was on the mission Wednesday.
Troops also found a treadmill and stair-climbing machine in another room, said Murray, of Jacksonville, Ill.
Squadron commander Lt. Col. Mark Solomon said it appeared that the home was used as a base but it was hard to tell when it was last occupied.
"We didn't miss them by hours ... but certainly over the past weeks and months there was activity at the house," he told The Associated Press.
"They had invested in it, in terms of the shackles on the walls, the treadmills. It was a place they used for a good period of time," added Solomon, who is from Boston.
Solomon said the military worked with members of the Sons of Iraq to locate the house. Sons of Iraq is a phrase often used by the military to describe U.S.-funded Sunni tribesman who are now fighting al-Qaida.
The military, meanwhile, announced a flurry of raids over the last several days in which a total 13 suspected insurgents were killed and dozens captured.
The heaviest clash involved the Tal Afar Special Weapons and Tactics team, made up of US forces and Iraqi SWAT teams.
Last Sunday, it targeted a cell responsible for assassinations and bombing attacks in the Tal Afar area of Iraq's restive Ninevah province, the military said in a statement.
During the raid, several fighters opened a barrage of gunfire at the Iraqi and US troops, killing the three Iraqi soldiers and wounding three others.
The US-Iraqi team killed nine suspected insurgents in the ensuing gunfight. Three Iraqi civilians were wounded and treated at the scene and eight suspected cell members were detained for questioning, the military said.
During one of the other operations, US soldiers shot and killed a man who drew a pistol on them and then tried to detonate an explosives-laden suicide vest near the city of Samarra, 60 miles north of Baghdad.