MANAGUA  -- Nicaraguan President Daniel Ortega announced on Thursday the severance of diplomatic relations with the Colombian government after a brief meeting with his Ecuadorian counterpart Rafael Correa who arrived in the Central American country on Thursday.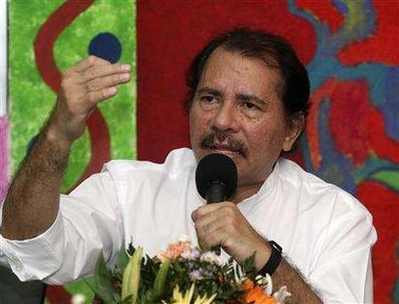 Nicaragua's President Daniel Ortega speaks during a news conference before a meeting with Ecuador's President Rafael Correa in Managua, March 6,2008. [Agencies]
"We want to tell you that Nicaragua is in solidarity with the Ecuadorian people and reiterating the right to respect the Hague International Court of Justice's decision, respect a disagreement between Nicaragua and Colombia, and before the reiterated military threats of the Colombian government, we have decided to break diplomatic relations with Colombia," said Ortega.
And in a press conference after announcement, Ortega said that he is convinced there is no other way out of the conflict than to seek peace to avoid war in Latin America.
Ortega said Latin Americans are willing to contribute to accomplish peace in Colombia, otherwise the conflict will spread and become international.
"The conflict's focus is in Colombia, it is not in Ecuador, it is not in Nicaragua; the guerrilla's bases are inside Colombia not in Ecuador nor in any other country, therefore, that has to be resolved, " said Ortega.
Ortega announced his country will seek the mediation of a Latin American country "capable of representing us" to be able to communicate with Colombia.
He said that one indispensable condition to restart relations with Colombia is that it respect the Hague Court's sentence and not to commit these type of terrorist actions like the ones launched against Ecuador.
Nicaragua went to the Hague Court on December of 2001 to establish the maritime border between both countries.
The Hague Court emitted a sentence on December 13 declaring itself competent on the Colombia-Nicaragua maritime border dispute in the Caribbean sea, where the Central American country claims sovereignty east of the 82nd meridian.
"We are not breaking relations with the Colombian people. We are breaking relations with the terrorist policy practiced by Alvaro Uribe's government," said Ortega.