BAGHDAD -- Some 2,000 US soldiers are being withdrawn from Baghdad as part of a planned reduction of US forces in Iraq, the US military said on Thursday.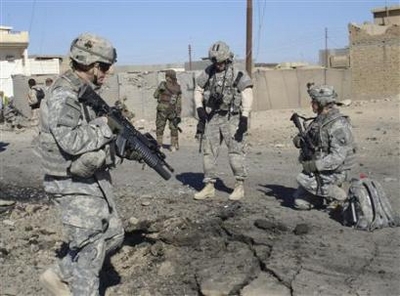 US soldiers inspect the scene of a bomb attack in Samarra, 96 km (60miles) north of Baghdad, March 5,2008. [Agencies]
The 2nd Brigade Combat Team, 82nd Airborne Division, was part of the extra 30,000 soldiers sent last year to stop savage sectarian violence between Sunni and Shi'ite Muslims that had threatened to tip the country into a civil war.
"I can state that (they) are leaving and there is no replacement brigade combat team coming in," US military spokesman Lieutenant-Colonel Steve Stover told Reuters.
Since the 30,000 troops became fully deployed in mid-2007, violence has dropped by 60 percent, prompting General David Petraeus, the US military commander in Iraq, to announce that five of 20 brigades would be pulled out by July 2008.
There are more than 150,000 US troops in Iraq, with about 34,500 deployed in the Iraqi capital. The drawdown is expected to cut the overall total by about 20,000.
Last November, the first brigade, totaling about 3,000 soldiers, was sent home from Iraq without being replaced.
Stover said the 2,000 soldiers of the 2nd Brigade Combat Team based in northeast Baghdad were also in the process of returning home after a 15-month tour. They included support and service staff as well as combat troops.
For operational reasons he could not say whether other US soldiers or Iraqi forces would fill the gap left by the departing brigade.
But there were plans to withdraw another brigade from the Baghdad area as part of the planned cutback, he said, giving no details of when that would take place.
"Plans are fluid," he said. "The (US military's intent) is not to give back any part of the city that our soldiers have paid a high price for."
Baghdad was the epicenter of a wave of sectarian violence that swept Iraq after the February 2006 bombing of a Shi'ite shrine in Samarra, killing tens of thousands and displacing hundreds of thousands of more.
Employing a new counter-insurgency strategy to reduce the violence, US forces moved out of large bases and set up patrol bases in neighborhoods, making them more vulnerable to attack. US forces suffered their highest number of casualties in 2007.
Petraeus and US Defense Secretary Robert Gates have said there should be a pause after the planned drawdown is completed in mid-2008 to assess the situation. That would leave about 140,000 US soldiers in Iraq.
On Wednesday, Major-General Mark Hertling, commander of US forces in northern Iraq, warned that further troop withdrawals would have to be halted unless Iraqi authorities moved faster to create jobs and improve basic services over the next six months.