WASHINGTON -- Parents worldwide are doing little to protect their children from exposure to secondhand smoke which is a global concern, according to a study released Thursday by researchers at the Johns Hopkins Bloomberg School of Public Health.
Exposure to secondhand smoke has been extensively shown to increase the risk for numerous illnesses and premature death.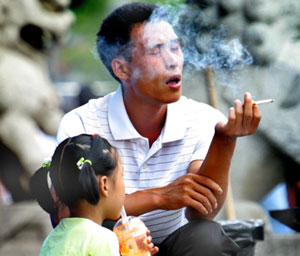 A man ignoring a little girl's presence enjoys a puff in Nanjing, East China's Jiangsu Province. Such acts, say WHO, make children more vulnerable to second-hand smoke. [Asianewsphoto]
The household study, conducted in 31 countries, found that 82 percent of parents who smoked reported smoking around their children. Measurements of nicotine levels from household air and children's hair samples also indicated high exposure to secondhand smoke among those living with a smoker.
The study is among the first to demonstrate that secondhand smoke is a global concern, particularly for children. It was published in the on-line version of the American Journal of Public Health.
According to the findings, concentrations of nicotine in the air were 17 times higher in households with a smoker compared to those without. Air concentrations were 12.9 times higher in households that permitted smoking indoors, compared to those that voluntarily restricted indoor smoking. Median air nicotine levels in households with smokers were highest in Europe, followed by Latin America and Asia.
Nicotine was detected in hair samples in 78 percent of children living with a smoker and 59 percent of those who did not live with a smoker.
"Our research clearly shows that parents are failing to protect their children from secondhand smoke exposure, perhaps because they are unaware of the risks," said lead author, Heather Wipfli, project director at the Bloomberg School's Institute for Global Tobacco Control.
"The results highlight the need to improve public awareness of the importance of going outside to smoke to limit the exposure to children living in the home."
A related study, also published in the American Journal of Public Health, concluded that paternal smoking diverts money from basic necessities to cigarettes, putting children at greater risk for chronic malnutrition.