WASHINGTON -- US President George W. Bush and Czech Prime Minister Mirek Topolanek said Wednesday they were on the cusp of reaching agreement on a radar for a planned US missile shield.
"There are only three words remaining to resolve," Topolanek said through an interpreter as they met in the Oval Office. He later explained the hold-up related to environmental guidelines for any US presence in his country.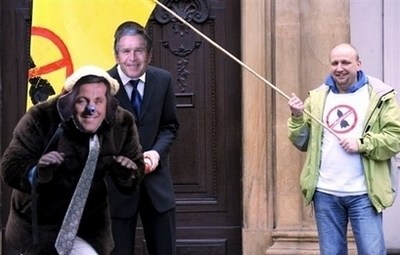 Demonstrators, wearing masks of US President George W. Bush(C) and Czech Prime Minister Mirek Topolanek(L) perform in front of the Czech government headquarters in Prague to protest against a planned US military radar base in the Czech Republic February 27, 2008. [Agencies]
"Sometimes one word matters a lot, and sometimes an agreement might fail because of one word, but this is not the case. These are just minor details, I'm sure we are going to finalize it soon," the prime minister said.
Asked how close the two sides were, the US president replied: "Close. Three words is close," but declined to offer further details.
Bush hopes to deploy a missile defense radar in the Czech Republic and house 10 interceptor missiles in Poland by 2012 as part of a missile shield he says will defend the United States and its allies from "rogue" states like Iran.
"The system we're developing will be able to deal with one, two, or three types of incoming missiles. Russia could overwhelm a system like this," said Bush, who meets March 10 with Polish Prime Minister Donald Tusk, denying the system is aimed at Russia.
The US president acknowledged Czech and Polish concerns related to any US installation on their soil.
"Who will be coming into their country? Under what conditions? How will people conduct themselves? These are all very legitimate questions," asked Bush.
Topolanek described the lingering differences over the deal as a question of "environmental protection" and said he wanted "the strictest possible standards to be applied in terms of ensuring, guaranteeing environmental protection.
"But that's just a technical matter which is going to be resolved very soon," he added.
In Warsaw, Poland's foreign ministry said that the United States had made an informal offer of new military cooperation, in line with Tusk's request for extra security guarantees as a condition to allow US silos on Polish soil.
Bush and Topolanek also hailed an accord signed Tuesday that could help secure visa-free travel for Czech citizens to the United States later this year -- but has raised concerns from the European Union.
The European Commission has expressed concerns the document could set a precedent, and impose new security restrictions on US-bound travellers beyond those agreed between Brussels and Washington.
EU officials have said the memorandum could see Prague hand over information about air travellers who are simply flying over US territory.