NIZHNY NOVGOROD - The United States is inciting instability in Europe by backing Kosovo's independence, Russia's presidential candidate, Dmitry Medvedev, said on Wednesday.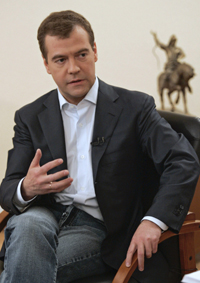 Dmitry Medvedev [File photo] 
"You have these decisions which ... if we are frank about it, are being incited from across the ocean," Medvedev, a first deputy prime minister and presidential candidate, said on a visit to the Russian city of Nizhny Novgorod.
"They are putting Europe in a very difficult position ... We understand that America is risking nothing, it is far away," he said.
"The saddest thing ... is that the stability and security of the whole region are being put under threat. All you have to do is put a match to it and the whole thing will catch fire."
Russia has backed Serbia in opposing Kosovo's indpendence. It has warned Western states that recognising Kosovo could set off a chain reaction of separatist unrest throughout Europe.
Medvedev has joined Putin in lambasting the West over Kosovo but he has not previously singled out the United States for criticism on the isssue.