TOKYO -- Protesters scored a victory in a high-seas campaign to disrupt Japan's whale hunt in the Antarctic, forcing the fleet to a standstill Wednesday while officials scrambled to unload two activists who used a rubber boat to get on board a harpoon vessel.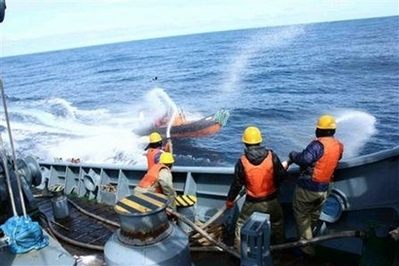 In this photo released by The Institute of Cetacean Research, crew members of the Japanese whaling vessel Yushin Maru No. 2, spray water at activists from the environmental group Sea Shepherd as they approach the ship, Tuesday, Jan. 15, 2008, in Antarctic waters. [Agencies]
The faceoff was a rapid escalation of the annual contest between the fleet that carries out Japan's controversial whale hunt in southern waters and the environmentalist groups that try to stop it.
The founder of the Sea Shepherd anti-whaling group, Paul Watson, told The Associated Press by satellite phone that the Japanese are targeting vulnerable whale stocks and said his organization will keep harassing the fleet.
"We will chase them until they stop their hunt," Watson said from the bridge of the Steve Irwin, a Sea Shepherd vessel. "As long as we are chasing them, they aren't killing whales."
Japanese officials said a Greenpeace boat also was shadowing the whaling fleet.
Watson claimed the two activists were being held as "hostages" on the Japanese harpoon ship Yushin Maru 2, but no Sea Shepherd boat had been sent to retrieve them.
Japan condemned the incident, calling the boarding of harpoon boat an act of "piracy" and accusing Sea Shepherd of stalling a handover of the activists to get publicity.
Japanese officials say they have made repeated attempts to contact Sea Shepherd to arrange a return of the activists, but the group has not responded.
"These people aren't hostages, they're unwanted guests," Japan Foreign Ministry spokesman Tomohiko Taniguchi said. "We want them off our ship immediately, but they're not giving us the chance."
Japan is contacting the Australian government for help in arranging the return of the two activists, said Hideki Moronuki, a spokesman for the Japanese Fisheries Agency's whaling section.
"It has become apparent that it will be impossible to hand the two trespassers back directly to Sea Shepherd, so our only option at this point is to make contact with another ship such as the customs vessel Australia dispatched," Moronuki said.
Australian Foreign Minister Stephen Smith said officials were considering the customs ship Oceanic Viking as a means of transferring the two activists.
"Obviously one option in surrendering assistance is the use of the Oceanic Viking and that is one of the options we are currently considering," Smith told reporters Thursday in the western city of Perth.