SYDNEY, Australia -- Australia said Wednesday that Japan has agreed to release two activists being detained after storming aboard a Japanese whaling ship near Antarctica, as whale hunters and defenders traded accusations of piracy on the high seas.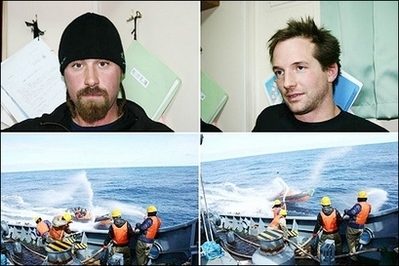 This combo of handout pictures, released from the Institute of Cetacean Research shows environmental group Sea Shepherd members Australian Benjamin Potts (L, top) and Briton Giles Lane (R, top) and being sprayed with water as they travel by a rigid inflatable boat (RIB) (below) by Japan's whaling vessel Yushin Maru No.2 in the the Southern Ocean. [Agencies]
The Japanese whalers accused the activists of attacking their vessel with bottles of acid and illegally boarding the Yushin Maru No. 2 on Tuesday, and denied claims the men had been assaulted and tied up on deck.
The anti-whaling group Sea Shepherd said the pair - Australian Benjamin Potts, 28, and Briton Giles Lane, 35 - boarded the ship to deliver a letter demanding an end to the hunt, but had been roughed up and were being held against their will.
The standoff drew criticism from Australian Foreign Minister Stephen Smith, whose officials contacted their Japanese counterparts late Tuesday to seek the release of the two activists.
"From the very first day I urged all parties in this matter to exercise restraint," Smith told Australian Broadcasting Corp. radio. "It's quite clearly the case that restraint hasn't occurred here."
Related readings:


 Greenpeace ship chases Japanese whaling fleet


 Australia, protestors to monitor Japanese whaling


 US scientists blast Japan's whaling allegation


 UK squares up to Japan in effort to preserve whaling ban


 Japan whaling meet hit by boycott


 Iceland breaks ban on commercial whaling
The event was a rapid escalation of the annual contest between the fleet that carries out Japan's controversial whale hunt in the ocean at the bottom of the world and the environmental groups who try to stop them.
Smith said Japanese officials had promised to return Potts and Lane to the Sea Shepherd ship Steve Irwin, though that had not been done by late morning Wednesday.
He said Australian Federal Police were evaluating whether any laws had been broken.
Glenn Inwood, a spokesman for Japan's Institute for Cetacean Research that organizes the hunt, said the whalers' attempts to contact Sea Shepherd to arrange a handover had failed and accused the group of stalling to get more publicity.
"It is completely illegal to board anyone's vessel, any other country's vessel, on the high seas so this can be seen as nothing more than an act of piracy by the Sea Shepherd group," Inwood said.
He confirmed the activists were restrained briefly on the deck of the Yushin Maru, but denied claims they were tied up for hours in freezing conditions.
Paul Watson, captain of Sea Shepherd's ship Steve Irwin, defended the group's actions as justified because the whale hunt was in violation of international law.
"The pirates down here are the Japanese," he told ABC radio by phone from the ship.
Japan sent ships to Antarctica in November to kill about 1,000 whales under a program that skirts an international moratorium on whaling because Tokyo says the kill is for scientific purposes. The program is widely condemned as a front for commercial whaling.
Under intense international pressure, Japan abandoned its plans to include 50 humpback whales in this season's hunt, which is due to run until April.