REYKJAVIK, Iceland - Iceland broke a global moratorium on commercial whaling, killing an endangered fin whale for the first time since the 1980s, local media reported Sunday.
Iceland's RUV television showed footage of a large fin whale being towed by a whaling boat. It said the whale was harpooned in the north Atlantic about 200 miles west of Iceland.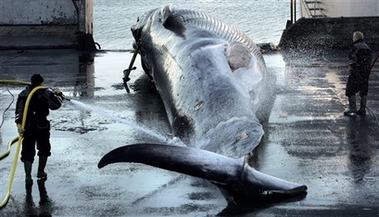 Workers hose down a large fin whale in Hvalfjordur, Iceland, Sunday, October 22 2006. Iceland has broken a global moratorium on commercial whaling, killing the endangered fin whale for the first time since the 1980s, Icelandic media reported Sunday. [AP]
Iceland announced last week that it would resume commercial whaling, ignoring a worldwide moratorium that came into effect in 1986.
Fisheries Minister Einar Kristinn Gudfinnsson said his ministry would issue licenses to kill nine fin whales and 30 of the more numerous minke whales in the year ending Aug. 31, 2007.
The announcement was condemned by conservation groups and many governments around the world, but praised by pro-whaling nations Norway and Japan.
Joth Singh of the International Fund for Animal Welfare condemned the hunt as "cruel and unnecessary."
Icelanders have been hunting whales since the days of the Vikings, but stopped commercial whaling in 1985 and scientific whaling in 1989 under the international moratorium on commercial hunts. It resumed scientific whaling in 2003.
Japan, Iceland, Norway and other pro-whaling nations have been pushing the International Whaling Commission to revoke the 1986 ban on commercial hunts amid controversy over exactly how many whales are left in the world's oceans.
At an IWC meeting in June, those nations passed a symbolic resolution to support ending the moratorium. Officially ending the ban would require a 75 percent majority among commission members.
Fin whales are on the International Conservation Union's "red list" of endangered species, but Iceland says they are plentiful in the country's coastal waters.
Iceland's fisheries ministry said this week that there are more than 43,000 minke whales and 25,000 fin whales in Icelandic coastal waters.
It said limited commercial hunting was "consistent with the principle of sustainable development."