BAGHDAD - Iraqi security forces were on high alert Sunday around Baghdad and in the Sunni heartland north of the capital as the country marked the one-year anniversary of Saddam Hussein's execution.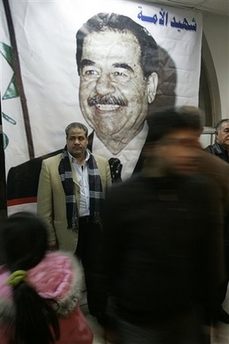 Jordanian Baathists pass by a huge poster of former Iraqi leader Saddam Hussein at a demonstration in Amman, Jordan, Saturday, Dec. 29, 2007. About 2,000 Jordanians demonstrated in the capital Saturday to commemorate Saddam on the one-year anniversary of his execution. [Agencies] 
Iraq army Brig. Gen. Qassim al-Moussawi said security forces were "ready and prepared for any emergencies that might happen."
In Saddam's hometown of Tikrit, hundreds of people and school children visited his burial site to pay homage and lay flowers. Some gave fiery speeches while others just stood quietly by the tomb, located in a large mausoleum in the Tigris River village of Ouja -- the small hamlet just outside Tikrit where Saddam was born.
Children chanted "with our blood, with our souls, we sacrifice for you Saddam," Associated Press Television News footage showed. The tomb was covered in Iraqi flags and flowers and flanked by large pictures of a smiling Saddam.
Saddam is buried next to his sons Odai and Qusai, who died in a gun battle with US forces in a 2003 in the northern city of Mosul.
Footage of Saddam's Dec. 30 execution, filmed on a mobile phone and showing the former Iraqi leader being taunted just before he was hanged, was leaked to the media and shown across the world. It provoked an outcry, particularly among many of Iraq's Sunni Arabs, and sparked a horrific day of violence that left 80 people dead from bombings and other attacks.
Iraq then plunged into its bloodiest cycle of violence since the US-led invasion in 2003, and American officials at the time feared the country was on the brink of civil war. The violence forced them to rethink their strategy and about 30,000 more troops were added.
Jamal Salman, a 35-year-old Sunni in Baghdad, said that "we had wished that Saddam's death would be part of the solution but it became part of a problem."
Saddam was executed shortly after being convicted on charges of killing 148 Shiite men and boys in Dujail, north of Baghdad, after a botched assassination attempt in 1982.
Sunnis were not only outraged that Saddam was put to death on the day that they began celebrations for Eid al-Adha, a major Muslim festival, but many also were incensed by the unruly scene in the execution chamber, in which Saddam was taunted with chants of "Muqtada, Muqtada, Muqtada."