Russia's first Deputy Prime Minister, Dmitry Medvedev, has officially become a candidate for the country's presidential elections.
Medvedev has also spoken publicly about his feelings and thoughts towards the campaign for next year's election.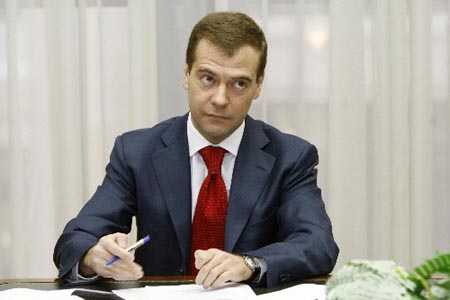 Russia's First Deputy Premier and presidential nominee Dmitry Medvedev signs papers as he submits his documents to be registered as a candidate in March 2008 presidential election at the Central Election Commission in Moscow, Thursday, Dec. 20, 2007. [Agencies] 
Dmitry Medvedev filed the official papers at the Central Election Commission on Thursday, formally becoming a candidate in Russia's presidential elections, scheduled to take place in March.
Related readings:


Medvedev nominated as Putin's successor


Putin supports Medvedev as his successor


Medvedev backs Putin to become PM
President Vladimir Putin who will step down next year after two consecutive four-year terms is backing Medvedev.
Asked if he was daunted by the thought of becoming Russia's next president, Medvedev said he feels a mixture of anxiety and responsibility.
Dmitry Medvedev, presidential candidate, said, "Of course I'm not afraid, but I do feel anxious, because I have to be able to justify the trust of a large number of people, who have decided that I am capable of carrying out this very difficult task."
In response to Time magazine's decision to name Vladimir Putin as 2007 "Person of the Year", a smiling Medvedev said it was in recognition of Russia's global influence under the president's leadership.
Dmitry Medvedev, presidential candidate, said, "It seems to me, it was deserved. Putin is doing a lot for our country. With his arrival in office, Russia is taken notice of and is respected internationally."
But he fended off concerns that the election would come under criticism from the west, saying it's an internal affair and the future president is only answerable to the voters and the State Duma.
With Putin's immense popularity and the support of the pro-Putin United Russia party which won a landslide victory in recent parliamentary elections many believe Medvedev is almost sure to win.