SHERPAO, Pakistan - A suicide attacker detonated a bomb packed with ball bearings and nails amid hundreds of holiday worshippers Friday at the residential compound of Pakistan's former interior minister, killing at least 50 people, authorities said.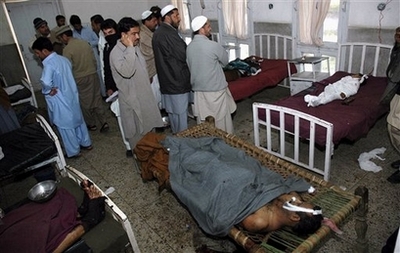 Local residents gather to identify the dead bodies of victims of a suicide bombing in Sherpao, a village 40 kilometers (25 miles) northeast of Peshawar, Pakistan on Friday, Dec. 21, 2007. [Agencies]
It was the second suicide attack in eight months apparently targeting Aftab Khan Sherpao, who escaped injury. One of his sons was wounded.
Suspicion will likely focus on the pro-Taliban or al-Qaida militants active in the northwestern region of the country where the attack occurred. The attack also deepened the sense of uncertainty in Pakistan as it heads into Jan. 8 parliamentary elections. Sherpao is a candidate for parliament.
Hours after the bombing, security officers raided an Islamic school in the nearby village of Turangzai and arrested seven students, some of them Afghans, two police officials said, speaking on condition of anonymity because they were not authorized to talk to the media. The officials declined to say whether the raid was connected to the attack.
The bombing, which came during the Islamic holy day of Eid al-Adha, left a scene of carnage at the mosque at the politician's residential compound in Sherpao, a village 25 miles northeast of the city of Peshawar.
Bloodied clothes, hats, shoes and pieces of flesh were strewn about the building. Witnesses said the dead included police officers guarding Sherpao, who was praying in the mosque's front row at the time of the attack but not injured.
"We were saying prayers when this huge explosion occurred," said Shaukat Ali, a 26-year-old survivor of the blast whose white cloak and pants were torn and spattered with blood.