Shanghai - The country's first homegrown regional jet, the ARJ21-700, rolled off the production line on Friday, marking a milestone in its civil aviation program.
Vice-Premier Zeng Peiyan attended the rollout ceremony at Shanghai Aircraft Manufacturing Factory.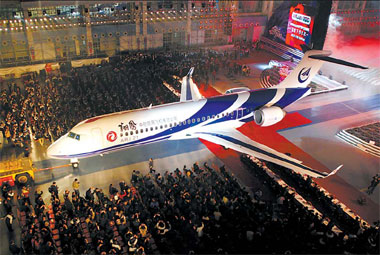 China's first fully homegrown commercial aircraft, the ARJ-21, rolls off the production line and is towed into a hangar at the Shanghai Aircraft Manufacturing Factory on Friday. [China Daily]

ARJ21 - an acronym for "Advanced Regional Jet for the 21st Century" - marks the first step in China's ambitious plan for its civil aircraft manufacturing industry.
It will be followed by programs of developing larger planes and advanced helicopters and research on key technologies such as engines and electronic systems, Qin Fuguang, an official with the Commission of Science, Technology and Industry for National Defense, told an earlier news briefing.
"Developing the civil aircraft industry is of strategic significance to China. It will not only satisfy the fast-growing domestic civil aviation market, but also guarantee the safety of the country's economy," he said.
At present, the civil aircraft market is largely monopolized by Boeing and Airbus.
The first ARJ21-700 jet carries two Chinese characters, Xiang Feng, which means flying phoenix, and symbolizes luck and harmony. The name was chosen through online voting.
The 90-seat jet has a range of up to 3,700 km, and is able to cover 60 percent of routes in China.
China Aviation Industry Corporation I (AVIC I), the country's major aircraft manufacturer that developed the ARJ21, announced that it had received 171 orders for the regional jets from domestic carriers, 100 of which were signed with Shenzhen Airlines on Friday during the ceremony.
Lao Airlines signed a letter of intent with AVIC I for two ARJ21 jets.
Wang Yawei, director of commercial aircraft division of AVIC I, said the medium-range jet, unlike many other "made-in-China" products, is competitive in technology and quality, not just price.
AVIC I said it planned to produce 30 ARJ21 jets a year by 2011.
The jet will go through a series of test flights from the first half of next year in a bid to acquire certificates from the General Administration of Civil Aviation.
"We have begun some ground tests. We plan to use three ARJ21 jets to go through 14-month tests to acquire the certificates," Wang said.
AVIC I is scheduled to begin deliveries to customers in the third quarter of 2009.
Following the ARJ21-700, there will be a new model called the ARJ21-900, with an expected capacity of 105 seats, co-designed by AVIC I and Canada-based Bombardier.
Wang cited a study saying there would be a demand for 900 regional jets in China in the next two decades.