Bali - American climate negotiators refused to back down in their opposition to mandatory cuts in greenhouse gas emissions Thursday, even as a US Senate panel endorsed sharp reductions in pollution blamed for global warming.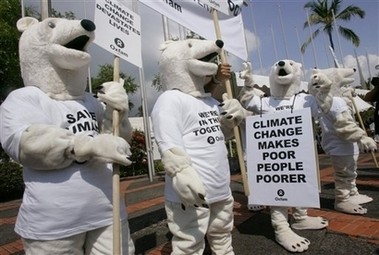 Oxfam activists wearing polar bear costumes stage a demonstration outside the venue of the UN climate change conference in Nusa Dua, Bali island, Indonesia, December 6, 2007. [Agencies] 
The United States, the world's largest producer of such gases, has resisted calls for strict limits on emissions at the UN climate conference, which is aimed at launching negotiations for an agreement to follow the Kyoto Protocol when it expires in 2012.
That stance suffered a blow when the US Senate Environment and Public Works Committee passed a bill Wednesday to cut US emissions by 70 percent by 2050 from electric power plants, manufacturing and transportation. The bill now goes to the full Senate.
US climate negotiator Harlan Watson, however, said that would not impact Washington's position at the international gathering in Bali.
"In our process, a vote for movement of a bill out of committee does not ensure its ultimate passage," he told reporters. "I don't know the details, but we will not alter our posture here."
It was the first bill calling for mandatory US limit on greenhouse gases to be taken up in the US Congress since global warming emerged as an environmental issue more than two decades ago.
Republican critics of the bill argued that limiting the emissions could become a hardship because of higher energy costs.
The two-week conference, which opened Monday, is already in a tense standoff between two camps, with the majority supporting mandatory emissions cuts on one side, and opponents such as the United States on the other, delegates said.
Scientists say the world must act quickly to slash greenhouse gas emissions and limit the rise in global temperatures or risk triggering devastating droughts and flooding, strangling world food production and killing off animal species.