WASHINGTON - The Bush administration announced plans on Wednesday to sell advanced anti-missile systems to the United Arab Emirates and Kuwait with a potential combined value of nearly $10.4 billion.
The deals would be the biggest yet in a US drive to bolster Gulf Arab states, including Saudi Arabia.
The Pentagon told Congress the United Arab Emirates had asked about buying 288 Patriot Advanced Capability PAC-3 missiles and related gear worth up to $9 billion.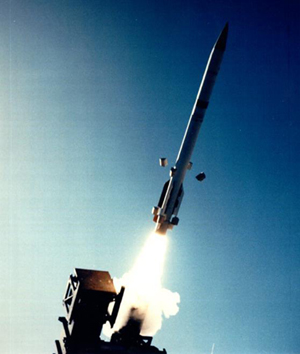 PAC-3 missiles [File photo]
The prime contractors would be Raytheon Co and Lockheed Martin Corp, the Pentagon's Defense Security Cooperation Agency said in a notice to lawmakers dated Tuesday.
Kuwait has asked about buying 80 PAC-3 missiles, PAC-2 upgrades and Patriot ground support equipment worth as much as $1.36 billion, a separate notice to Congress said.
The Pentagon said the proposed Patriot PAC-3 sale - worth up to $9 billion if all options are exercised - would "strengthen the effectiveness and interoperability of a potential coalition partner, reduce the dependence on US forces in the region, and enhance any coalition operations the US may undertake with the United Arab Emirates."
These sales are part of a Bush administration strategy announced in late July to enhance Gulf security, said Jay Greer, a State Department spokesman.
The notices to Congress of potential arms sales are required by law. They do not mean a deal has been concluded. Congress has the power to block a proposed sale.
The Bush administration has agreed to delay until next month congressional notification of related plans to sell Saudi Arabia a package expected to include Boeing-made kits designed to make bombs pinpoint accurate.
A total of 116 lawmakers sought the delay until at least January 15 to review the matter more carefully, said Rep. Anthony Weiner, a New York Democrat who spearheaded the move, in a statement Tuesday.