BAGHDAD - The top American general in Iraq, David Petraeus, expressed satisfaction on Thursday at the progress made in Iraq but said the military was still far from any victory dance.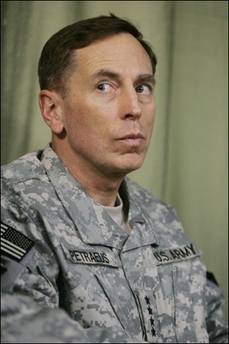 US Army General David Petraeus, commander, Multi-National Forces-Iraq, listens to a joint-news conference 05 December, 2007, in Baghdad. [Agencies]
"Nobody in uniform is doing victory dances in the end zone," Petraeus told reporters travelling with US Defence Secretary Robert Gates, who arrived in Baghdad Wednesday on an unannounced visit to Iraq.
Gates said on Wednesday that the violence in Iraq had dropped to levels not seen since the bombing of a Shiite shrine in the central town of Samarra that unleashed Shiite and Sunni conflict nearly two years ago.
He said the reduction in violence meant the "goal of a secure, stable and democratic Iraq is within reach".
Petraeus, who in September announced to Congress the first possible elements of an American troop drawdown in Iraq, was more cautious on Thursday.
"We work hard to build up on the progress made" but "we have to be careful not to feel too successful," he said.
"Certain days we certainly feel very good but there are still attacks. We have seen continued improvements," he said, adding that there was "much hard work still to be done and issues to be addressed".
Petraeus was due to meet later Thursday with Gates, who on the first day of his visit met top Iraqi leaders, including Prime Minister Nuri al-Maliki.
The defence secretary was to leave for Bahrain later in the day to attend a weekend conference on regional security.