LONDON -- Britain faces a serious threat of a "dirty bomb" terror attack, warned Home Secretary Jacqui Smith Friday.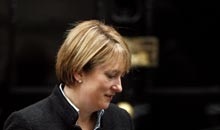 Britain's Home Secretary Jacqui Smith leaves Downing Street after a Cabinet meeting in London Nov. 13, 2007. Smith warned Britain of a serious threat of a "dirty bomb" terror attack Friday. [Xinhua]
The minister told Sky News that intelligence analysts believed the number of plots was likely to grow in the months ahead.
"The regular threat assessments I receive make sobering reading," she said, adding that over the last year or so the threat has been growing.
Eliza Manningham-Buller, former head of MI5, the country's secret intelligence service, had estimated there were 1,600 to 2,000 individuals involved in terrorist plots in Britain.
On the possibility of a radiological or chemical attack, the home secretary said, "If you look at the nature of the sort of attacks that have either been carried out or have been foiled, we are talking about attacks on crowded public places."
"We are talking about potential use of dirty bombs and other things and it is something that we need to take seriously," she said.
The failed bomb attacks in London and Glasgow, which happened last June the day after she took office as home secretary, was a graphic illustration of the threat facing Britain, Smith said.