CANBERRA - More than 160 people have been killed in floods north of Port Moresby, capital of Papua News Guinea (PNG), according to PNG disaster officials.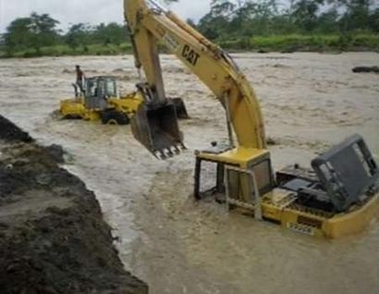 Earthmoving machinery sits in a flooded river in Papua New Guinea's remote mountainous east in this image made from television footage November 20, 2007. Floods in Papua New Guinea have killed 163 people, with 1,000 homes destroyed and thousands of people displaced, police said on Wednesday. Photograph taken November 20, 2007. [Agencies]
Another 13,000 have reportedly been left homeless in Oro province.
Australian Broadcasting Corporation radio reported Wednesday that the death toll is expected to rise to more than 200 in floods caused by Cyclone Guba which hit the country last week.
The government has declared a state of emergency, with the damage bill put at around US$70 million.
Disaster officials fear more people could die of starvation and waterborne diseases if help does not arrive soon.
Just two helicopters are servicing the province which has a population of around 150,000 people.
Patrick Lindsay, chairman of the Australian non government organization, the Kokoda Track Foundation, said delays with assessment mean international aid hasn't been fully implemented yet.