SINGAPORE - The signing of the ASEAN Charter here Tuesday highlighted the theme of "One ASEAN at the Heart of Dynamic Asia" of the 13th ASEAN Summit.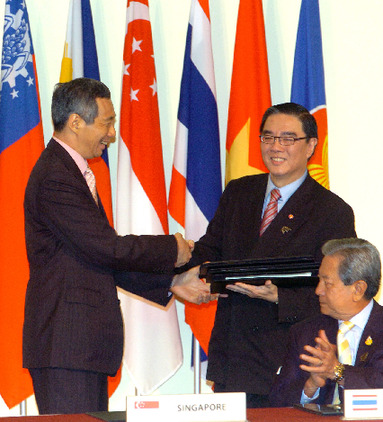 Singapore's Prime Minister Lee Hsien Loong (L) hands over the Association of Southeast Asian Nations (ASEAN) Charter to Ong Keng Yong, Secretary General of ASEAN at the 13th ASEAN Summit in Singapore Nov. 20, 2007. [Xinhua]
It also highlighted the motto of the Association of Southeast Asian Nations, "One Vision, One Identity, One Community."
"I think it is a good document to start off our new ASEAN era," said ASEAN Secretary-General Ong Keng Yong. "And it is a credit that all ministers endorsed it with no further comment because we have done all our homework very well."
It took almost 37 years for the regional inter-governmental organization to decide to have a charter and more than two years to deliberate and draft it. But it took only 20 minutes for the foreign ministers of ASEAN countries to endorse and minutes for the leaders of ASEAN countries to sign it, reflecting the common need of the member states "to strengthen existing bonds of regional solidarity to realize an ASEAN Community that is politically cohesive, economically integrated and socially responsible in order to effectively respond to current and future challenges and opportunities" as it is written in the Charter.
"Asia is a major driver of global growth, and ASEAN is right in the center of the action. Our countries offer complementary advantages to businesses, and a neutral core around which the rest of Asia can build economic ties, and a regional framework of cooperation. To sustain this, ASEAN has to become more integrated and cohesive. Only thus can we keep up with larger and stronger economies like China and India," said Singapore Prime Minister Lee Hsien Loong when addressing the opening ceremony of the ASEAN Business and Investment Summit held here on November 17.
Commenting on the Charter and the existence of ASEAN, Thailand' s newspaper The Nation wrote, "ASEAN has made an awful lot of mistakes since its birth in 1967, but it would be a bigger mistake if Southeast Asia did not have ASEAN."
After 40 years since its establishment, the grouping of Indonesia, Malaysia, the Philippines, Singapore, Thailand, Brunei, Vietnam, Laos, Myanmar and Cambodia, finally established its legal and institutional framework on the opening day of the 13th ASEAN Summit.
ASEAN has a total population of about 500 million, a total area of 4.5 million square kilometers, a combined gross domestic product of almost US$700 billion, and a total trade of about US$850 billion.
"When it (the Charter) comes into force, it has the potential to transform ASEAN from a loose grouping of countries into a more cohesive, more effective and a more rules-based organization," said Tommy Koh, Singapore's representative in the 10-member High Level Task Force which drafted the Charter, in an interview with Channel News Asia, the leading TV station of Singapore.