TOKYO: Australia and New Zealand appealed to Japan Monday to halt a whaling fleet headed for the Antarctic to hunt humpback whales, as Japanese officials denied activists' claim that the ships had turned off their radio locators to avoid detection.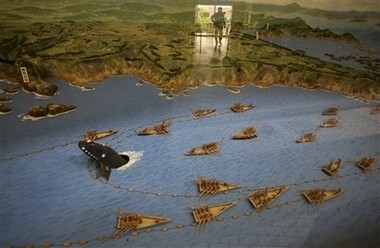 A museum diorama, depicting traditional Japanese coastal whale hunting practices, is seen at the Whaling Museum in Taiji, Japan on April 25, 2007. [Agencies]
The fleet left southern Japan's Shimonoseki port on Sunday morning.
The whalers plan to kill up to 50 humpback whales in what is believed to be the first large-scale hunt for the once nearly extinct species since a 1963 moratorium in the Southern Pacific put them under international protection.
The mission also aims to kill as many as 935 minke whales and up to 50 fin whales in what Japan's Fisheries Agency says is its largest-ever scientific whale hunt.
The environmentalist group Greenpeace said its protest ship, the Esperanza, was searching for the fleet south of Japanese territorial waters and would shadow the ships to the Southern Pacific.
"It's a large ocean, but we're going to track them down," expedition member Dave Walsh said Monday.
Greenpeace claimed the fleet had turned off radio transponders that signal its location. Hideki Moronuki, head of the Fisheries Agency's whaling section at Japan's Fisheries Agency, denied that.
Anti-whaling nations have widely criticized the hunt.
New Zealand's Prime Minister Helen Clark said the fleet should have never left port.
"It would just be better if the Japanese stayed home and didn't come down under the guise, the deception, the claim that it is scientific whaling when they want to take a thousand whales," she told New Zealand's TV One.
The Australian government was "deeply disappointed" by the fleet's departure, Foreign Minister Alexander Downer and Environment Minister Malcolm Turnbull said in a joint statement. "The government again appeals to Japan to reconsider its position on this inhumane practice."
At a farewell ceremony for the expedition on Sunday, the head of the mission said Japan should not give in to the demands of whaling opponents and criticized environmental groups' tactics.
"They're violent environmental terrorists," Hajime Ishikawa said to a crowd on the dock in a send-off ceremony. "Their violence is unforgivable... We must fight against their hypocrisy and lies."
The conservation group Sea Shepherd harried Japan's fleet in the last Antarctic hunt in February. Japan's government released video of protesters launching smoke canisters from a Sea Shepherd ship and dropping ropes and nets to entangle the Japanese vessels' propellers.
The hunt ended early after a fire broke out aboard one of the whaling ships, killing one crew member and forcing the fleet to limp back to port. It was not clear what caused the blaze.
Japan says that it needs to kill whales to conduct research on their reproductive and feeding patterns, and that the number it kills is far too small to endanger their overall populations. The International Whaling Commission (IWC) allows scientific whale hunts, but critics say Japan uses science as a cover for commercial whaling.
An IWC moratorium on commercial whaling took effect in 1986.
Agencies