NEW YORK - Scientists in Oregon say they've reached the long-sought goal of cloning monkey embryos and extracting stem cells from them, a potentially major step toward doing the same thing in people.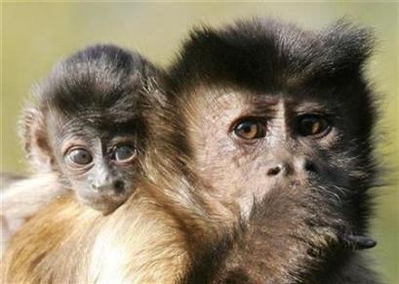 She-Devil, a 3 week-old Capucin monkey, rests on the shoulder of her mother Impie at the Olmense Zoo in Olmen, Belgium October 18, 2007. [Agencies] 
The research has not been published yet or confirmed by other scientists. But if true, it offers fresh hope in field that has been marked by frustration and even fraud. The claim of a similar breakthrough with human embryos by a South Korean scientist in 2004 turned out to be false.
The hope is that one day, such a procedure could be used to create transplant tissue that's genetically matched to an ailing patient. Because stem cells can form all types of tissue, the approach might one day help treat conditions like diabetes and spinal cord injury without fear of rejection by the patient's body.
Scientists have tried for years to clone monkey embryos and extract stem cells because monkeys are more closely related to humans than other lab animals are. So monkey work has been expected to give hints about how to do this in people.
The success was reported earlier this year at a scientific meeting in Australia by Shoukhrat Mitalipov of the Oregon National Primate Research Center in Portland. It received limited media attention at the time, but the results were given new attention Tuesday by a London newspaper, The Independent.
Mitalipov did not immediately respond Tuesday to an interview request from The Associated Press. But another scientist, Jose Cibelli of Michigan State University, told The AP on Tuesday that he'd heard Mitalipov's presentation at the Australia meeting.
"To me, it's a breakthrough," said Cibelli, who studies cloning and stem cells. The work shows "it is possible."
In cloning to obtain stem cells, DNA from an adult animal is inserted into an unfertilized egg. The egg is grown into an early embryo, from which stem cells are extracted. These stem cells, and the tissue that develops from them, will be a genetic match to the source of the DNA.