WASHINGTON - US President George W. Bush on Friday authorized $25 million in energy aid for the Democratic People's Republic of Korea (DPRK) as a reward for Pyongyang's movement toward dismantling its nuclear weapons program.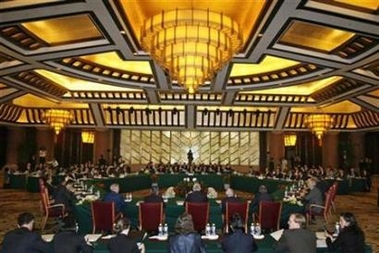 Negotiators and delegates gather at the start of the six-party talks in Beijing, September 27, 2007. [Reuters]
The president's action came as another round of six-party talks -- the United States, the two Koreas, Japan, Russia and China -- were held in Beijing on ending DPRK's nuclear arms ambitions.
Under an agreement reached in February, Pyongyang is to receive 950,000 metric tons of heavy fuel oil for taking steps toward dismantling its nuclear program.
The US aid authorized on Friday would provide up to 50,000 metric tons of heavy fuel oil, the White House said, adding that China had provided an equal amount of the fuel to Pyongyang in September.
DPRK "has met its commitments to date with respect to shutting down the Yongbyon facilities" and allowing monitoring by the International Atomic Energy Agency, Gordon Johndroe, White House National Security Council spokesman, said.
Bush authorized the fuel aid after consultations with Congress were completed last week, a necessary step because DPRK is subject to US sanctions.
The country, which tested a nuclear device in October and is believed by US officials to have enough plutonium to make at least eight or nine atomic bombs, is also subject to UN Security Council sanctions.
"The recent commitment by the DPRK (Democratic People's Republic of Korea) to complete a declaration of all its nuclear programs and disable all its existing nuclear facilities by December 31, 2007, can be seen as an indicator of North Korea's intention to meet the obligations of the February 13, 2007, Initial Actions agreement," Johndroe said.
"The United States is now pressing for rapid implementation of the 'next phase' of the Initial Actions agreement, in which the DPRK agreed to provide a complete declaration of all its nuclear programs and disablement of all existing nuclear facilities," Johndroe said.
South Korea and China have delivered fuel, Russia is expected to participate in energy assistance, but Japan has indicated that it will not supply energy aid unless North Korea addresses the abductions issue, he said. North Korea has admitted kidnapping Japanese citizens in the 1970s and 1980s and Tokyo wants more information on them.
"All parties, including the DPRK and the United States, need to follow through on their commitments in order to maintain and build momentum in the six-party process," Johndroe said.