Negotiators for the ongoing six-party talks on the Korean Peninsula nuclear issue have reached some agreement on denuclearization and declaration, Chun Yung-woo, delegation head of the Republic of Korea, said Saturday.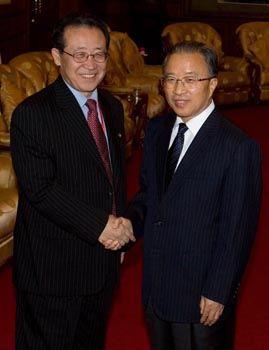 China's executive Vice Foreign Minister Dai Bingguo (R) shakes hands with North Korea's envoy Kim Gye-gwan at a banquet Dai hosted for envoys attending the six party talks in Beijing September 29, 2007. [Reuters] 
The six nations had discussed the text of a draft joint document and put forward their views. The Chinese side will work out a new version on the basis of the views, said Chun at a news briefing.
He said he could not disclose the details of the document, but "the most important part of it will be the timing of declaration and disablement of nuclear facilities."
"The Democratic People's Republic of Korea (DPRK) has shown a certain degree of sincerity regarding the considerable part of what it has declared or intends to do so," said an ROK delegate on condition of anonymity.
What the DPRK has promised to do is pretty good, and the ROK will continue its efforts for the final goal of denuclearization, said the delegate.
The fresh round of the six-party talks, which involve China, the DPRK, the ROK, the United States, Russia and Japan, began on Thursday and is due to end on Sunday.