WASHINGTON - US Defense Secretary Robert Gates said Thursday he's inclined to approve an Army proposal to spend nearly $3 billion extra to accelerate the expansion of its active-duty force.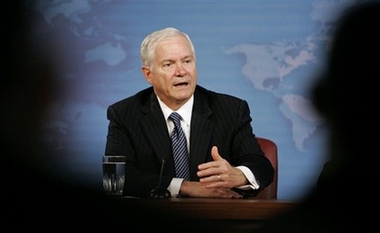 US Secretary of Defense Robert Gates talks with reporters during a news conference, Thursday, September 27, 2007, at the Pentagon in Washington. [AP]
Army Secretary Pete Geren said speeding up the growth of the force, stretched thin by wars in Iraq and Afghanistan, would mean recruiting faster and increasing the number of soldiers who re-enlist.
"I'm probably going to recommend they go ahead and give it a try," Gates told reporters at a Pentagon news conference. Appearing with Gates was Gen. Peter Pace, the chairman of the Joint Chiefs of Staff who is retiring on Monday after 40 years in the Marine Corps.
The defense secretary cautioned that he would not accept any sped-up expansion of the Army that would lead the Army to lower its recruiting standards, including levels of education required.
"I'm inclined to approve it," Gates said. "My questions have focused principally on whether they can do it, in terms of recruitment and whether they can do so without lowering standards and, in fact, to begin to move back toward the high standards of not too many months ago."
Gates mentioned, as an example, that the percentage of Army recruits with a high school diploma has dropped to about 76 percent, compared with over 90 percent in recent years. "We'd like to see that get back up," he said.
Geren, in an earlier interview with a group of reporters, also said it was possible that even while five Army combat brigades are withdrawn from Iraq between December and July, the number of non-combat troops there could stay the same or even increase. He stressed that he was not predicting any particular level of support forces in Iraq in 2008 but also was not assuming the number would be lower by then.
It has generally been assumed that the number of support troops in Iraq would decline next year as part of the plan announced by President Bush earlier this month to withdraw five combat brigades by July.
Gates told the Senate Appropriations Committee on Wednesday that commanders in Iraq have not yet worked out in detail what portion of the support force will be pulled out next year. He mentioned, as one example, that an Army helicopter unit might remain. In all, about 8,000 extra support troops were sent in the first half of the year as part of a troop buildup in Baghdad and Anbar province.
Among the issues still on the table, Geren said, is this: Would a reduction in the number of combat brigades mean more need or less need for troops performing support functions like training the Iraqi army and police?
"That's a possibility," he said. "I'm not saying it's a likelihood."
Because of that uncertainty, among others, it is not possible to know yet how soon the Army will be in position to shorten Iraq deployments to 12 months, Geren said. Tours were increased to 15 months in January in order to enable commanders to maintain a higher level of forces in Iraq until next spring.
Also in January, when Bush announced his intention to send five extra combat brigades to Iraq in a change of war strategy, he approved a plan to increase the size of the active-duty Army by 74,000 soldiers over five years - from 512,000 to 586,000 soldiers. The rationale was that the Army needs to get bigger in order to sustain a long-term commitment in Iraq and Afghanistan without wearing out the troops and alienating their families.
The Marine Corps also is expanding for the same reason.
Geren said the Army now sees a need to accelerate its growth plan, as strains on troops continue to mount. He said the Army estimates it will cost an extra $2.7 billion to $2.8 billion - mainly in added personnel costs - to accomplish the 74,000 increase in four years rather than five.
"We have concluded that we could expedite the growth by a year, and that would reduce stress on the force," Geren said.
The Army secretary also said that one of the key lessons from the Iraq war is that the proper role of private contractors in a war zone needs to be examined more fully. He noted the controversy that has arisen over accusations against Blackwater security contractors in connection with the killing of 11 Iraqis on Sept. 16 in Baghdad. Those contractors were working for the State Department, not the US military, but Geren said it highlighted an issue that needs closer scrutiny.
Geren said the Army has put Jacques Gansler, who was the Pentagon's technology chief from 1997-2001, in charge of an independent commission that is studying the role of private contractors in war. The study is due to be completed at the end of October, he said.