HANOI: A Japanese-funded bridge under construction in southern Vietnam collapsed Wednesday, killing up to 60 workers and injuring around 150 in the country's worst such disaster.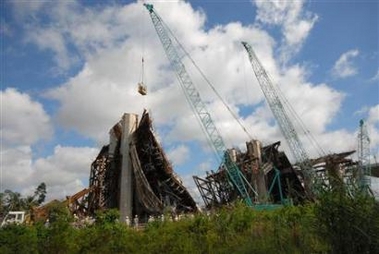 A collapsed bridge is seen in Vietnam's Mekong delta Vinh Long province, September 26, 2007. [Reuters]
One police officer reached by telephone said as many as 100 could be dead or missing.
TV news bulletins showed footage of a mass of tangled steel and concrete at the scene, and emergency workers in white uniforms taking bloodied victims into hospitals for treatment.
"It is total chaos here," said Tran Thanh Quang, director of military hospital 112 in the Mekong Delta city of Can Tho, where most victims were being treated.
At least 150 people were being treated for injuries and hospitals were running out of beds, officials said. Doctors and nurses were sent from Ho Chi Minh City, 170 km away, to help.
Official media said the collapse of a section of bridge on land next to the Hau River was the worst bridge accident in Vietnam, which is ramping up infrastructure projects to keep pace with an economy growing at more than 8 percent a year.
Most of the dead and injured were Vietnamese. The Japanese embassy in Hanoi said it had not confirmed yet whether or not any Japanese were on site at the time of the 8:30 am (9:30 am, Beijing time) collapse when about 250 workers were on the bridge.
The bridge is being built to link Can Tho and Vinh Long province over the heavily used river, one of nine tributaries of the Mekong River.
A police official in Vinh Long said he saw 36 bodies.
"They are using machinery to cut and lift the concrete," the police official said by telephone. "It is very difficult to reach the bodies and there is also danger of further collapse."
Japanese companies started building the bridge in 2004 with Japan government aid of $300 million. It was to be finished next year and have a span of 2.75 km.
Three Japanese contractors - Taisei Corp, Kajima Corp and Nippon Steel Engineering Co Ltd - were on site on Wednesday.