The upcoming 17th National Congress of the Communist Party of China (CPC) will chart the direction of Beijing's future policy toward Taiwan, a senior mainland official said Wednesday.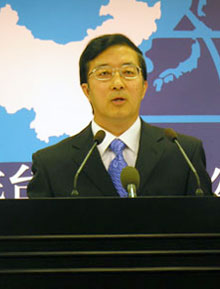 Li Weiyi, spokesman for the Taiwan Affairs Office of the State Council, speaks at a press conference in Beijing September 26, 2007. [chinataiwan.org]
"In accordance with the cross-Straits situation as well as its development, the 17th national congress will decide on the guiding thought and main tasks," Li Weiyi, spokesman for the Taiwan Affairs Office of the State Council, told a regular news briefing.
"It will be of great importance to promote the development of cross-Straits relations and push forward the peaceful reunification process."
The national congress - held every five years and considered the most important political gathering of the Party - will elect the new Party leadership and elaborate on some important issues in its report, including the basic approach toward Taiwan.
"It will give a systematic statement on the mainland's stance toward Taiwan," Li Yihu, a professor at the School of International Studies of Peking University, said.
The timing of the congress - scheduled to begin on October 15 - is set against the backdrop of a recent series of secessionist activities of pro-independence forces led by Taiwan leader Chen Shui-bian.
Chen is pushing for a "referendum" on the island's UN membership under the name "Taiwan", which the mainland considers a step toward formal "independence".
The Taiwan Affairs Office warned last week that it has made "necessary preparations" to deal with any "serious situation".
Guo Zhenyuan, a researcher with the Beijing-based China Institute of International Studies, said the Party report is likely to highlight the importance of "effectively" curbing the pro-independence forces and continuing to boost cross-Straits exchanges.
But some experts expect no major change in Party policy on the Taiwan question.
"Maintaining peace and development on both sides will still dominate the policy," Li Yihu said.
Commenting on media reports that the Taiwan military is building a missile brigade on the outlying island of Matsu to target Shanghai and Fujian Province, Li Weiyi said: "We sternly warn the Taiwan authorities not to play with fire. Whoever plays with fire gets burnt."
He also expressed regret over the scuttled plans to include Taipei in the torch relay route for next year's Beijing Olympics.
Xinhua contributed to the story