HANOI -- An approach ramp in Vietnam's southern Vinh Long province leading to the Can Tho bridge, the longest bridge in the country's southern Mekong Delta under construction, collapsed Wednesday morning, killing or leaving missing some 100 people.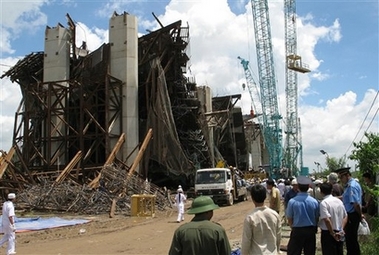 Rescue workers try to search for survivors of a collapsed bridge in southern Vinh Long province, Vietnam on Wednesday Sept, 26, 2007. [AP]
An 87-meter section of the ramp, whose concrete was cast Tuesday, collapsed, killing at least 20 workers, and injuring over 100 others, according to sources from the People's Committee of Vinh Long and hospitals in southern Can Tho city.
When the section collapsed, around 100 people were working under the ramp, and some 150 others on the ramp. Those working under the ramp faced high risk of fatality, while the people working on it were injured, the sources said, noting the people are staff of a partnership comprising three Japanese firms: Taisei, Kazima and Nipponsteel.
According to initial investigation, the section, 30 meters above the ground, collapsed after a scaffold system supporting the section fell. According to a local construction engineer, the collapse could have been caused by the fact that rain over the past few days has affected the foundation.
Over 100 people have been hospitalized in Can Tho and Vinh Long. Most of them suffered head, arm and leg injuries. Local agencies are striving to search for people trapped in the section's ruins, the sources said.
Construction of approach ramps and the cable-braced bridge's main span over the Hau River, linking Can Tho and Vinh Long, began in September 2004 with investment of over 4.8 trillion Vietnamese dong (US$302 million) from official development assistance of Japan and the Vietnamese government's reciprocal investment. It is scheduled to be complete in 2008.
The six-lane bridge will be 2.7 km long, including the 550-meter main span and approach ramps, and 24.9-meter wide. Approach roads measuring over 12.6 km will bring the bridges total length to 15.4 km.